A choice of excellence: Selling real estate with Engel & Völkers London
Founded over 40 years ago, Engel & Völkers real estate agency is now among the world's leading service providers, specialised in the brokerage of premium residential and commercial property. With over 900 locations in more than 31 countries across 5 continents, Engel & Völkers is the estate agent of choice for both private and institutional clients, offering a wide range of professionally tailored services.
As a property owner in London, now may be a good time for you to seriously consider selling because the UK's capital is a thriving, highly business-oriented and vibrant city, an unparalleled international conurbation with an excellent infrastructure in all areas and quite rightly attracting high buyer demand. Whether you own a house, flat or an apartment and plan to sell, enlisting the professional services of Engel & Völkers will not only comfortably expedite the sale of your property, but also maximise your results.

Why choose Engel & Völkers London:
Outstanding, global reputation
1. London and its unique qualities for your house or apartment sale with Engel & Völkers
Of all the major cities in Europe, it is fair to say that London stands out and can truly be considered among the top international real estate markets for a number of reasons. To begin with, London is undoubtedly one of the most beautiful cities in the world, waiting to be discovered and renowned for its long and colourful history and culture, as well as its unique atmosphere.
However, London is also one of the biggest financial centres in the world, with an excellent infrastructure in all areas, offering an optimal environment for business, financial and industrial activities. As a result, London also offers a wide array of high-level career opportunities and has continued to attract people seeking both jobs and housing, therefore generating a steady demand for real estate of all types.
A good indication of this is that in the first half of 2022, 48% of prime properties in Central London were purchased by international buyers. This shows the continued and consistently solid international demand for real estate, which makes the decision to sell a house, apartment or a flat a highly profitable choice because the uniqueness of a property in London alone is an added value in itself. Let Engel & Völkers give you all the professional assistance you need to turn the planned sale of your house, flat or apartment into a highly successful venture.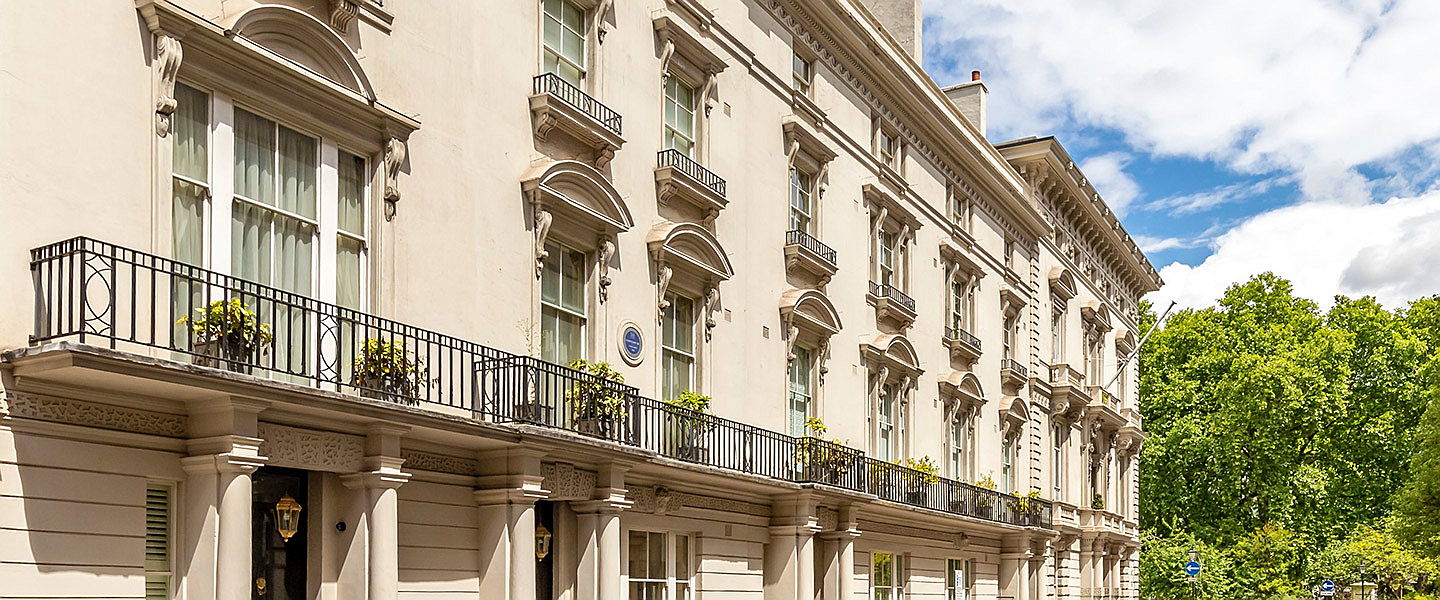 2. Engel & Völkers: Your competent and experienced partner on the London real estate market
In 2021 Engel & Völkers achieved a record transaction volume of 39 billion euros in the real estate brokerage business as it continued to push ahead on its course of growth. This reflects not only the ongoing high demand for real estate, but also the solid implementation of the company's business strategy as well as the high level of professionalism displayed by our multilingual agents thanks to their excellent training.
Another contributing factor is the digital platform Engelvoelkers.com, which gives maximum exposure to our extensive portfolio of offerings with an average of 98,000 unique visitors a day from all over the globe. Equally important to our clients is our full-service approach covering everything from the initial steps of document research and the creation of the exposé to the presentation of the property and the conducting of contract negotiations right through to the final handing over of the keys.
Another important aspect of our service, and a key benefit, is that we offer our clients who are planning to sell a free valuation without any obligation to give them an idea of the true value of their house, flat or apartment prior to launching their individually tailored marketing campaign.
Owners of prime real estate in the world's most sought-after locations or properties not marketed publicly are also offered the option of listing with and promoting their properties through The Private Office network. This is a network of more than 200 highly successful and well-connected agents around the world known as Private Office Advisors through whom prospective buyers can gain discreet access to exquisite properties.
Another option that can be used to list and market your property is the opportunity to advertise in the Engel & Völkers in-house magazine GG. The publication covers various topics of interest with the focus on unique and luxurious properties, travel and lifestyle, and is available both online and in printed form with 1.3 million copies delivered annually around the globe in six languages.

3. Benefit from our international contact network and sell your property to a worldwide clientele
Engel & Völkers was originally founded in Hamburg in 1977 and since then has expanded dynamically with now more than 900 offices located around the world spanning 5 continents. Its top locations include international real estate hotspots like New York, Berlin, Milan, Los Angeles, Hong Kong, Dubai, Barcelona, Vancouver, Zurich and others, with new offices to open soon.
Engel & Völkers London offers sellers the unique option of using this extensive global network to generate and maximise exposure when marketing their properties to international clients seeking buying opportunities in London. This is a key factor for a successful sale because one in four properties listed with Engel & Völkers is in fact sold through our international network. Sellers also have at their disposal the option of selecting and targeting particular international markets, or listing their house, flat or apartment regionally, for example in newsletters or via promotional campaigns.
Another marketing channel open to sellers is to advertise their property in the many Engel & Völkers shop windows located around the world. It is the connectivity of the Engel & Völkers global integrated real estate network that underscores the company's unique selling point and has been the driving force behind the leading brand it is today. Many London homeowners planning to sell already anticipate that their property will attract interest on the international markets, and Engel & Völkers, with its unparalleled, reliably efficient network is the only real estate broker that can deliver and provide access to such a globally established marketing gateway. However, for those who favour a more traditional approach to addressing the local market rather than through its unique network, Engel & Völkers also offers its clients the services of Rightmove and Zoopla, two portals used by estate agents to advertise their customers' properties.



Whether you've finalised your decision to sell your house, flat or apartment, or you still have questions you need answers to, please feel free to contact Engel & Völkers London for advice and guidance on how to successfully market and sell your property. Simply contact us for your individual appointment with us by filling in our online contact form or calling us at +44 (0)203 283 8700. If you want to find out more about the best way to sell your property and gain valuable information about the latest trends on the London real estate market, be sure to sign up for our free newsletter, which is published regularly.

Picture credits
©Alev Takil, ©Benjamin Davies



Contact us now
Engel & Völkers
Licence Partner London