New flat tax: why Costa Smeralda is the perfect destination to choose as first residence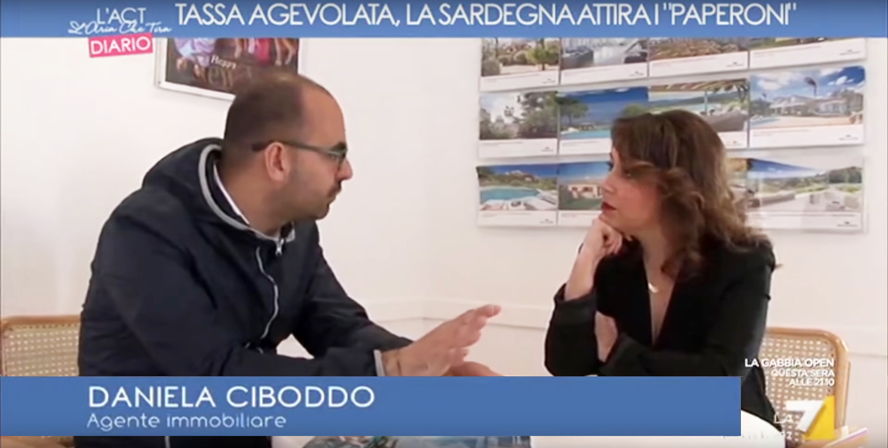 Licence partner dr.ssa Daniela Ciboddo and her professional agents of Engel & Völkers team –Mirko Delfini and Juliana Spitz - have been interviewed last week by the Italian TV channel La7 to discuss the new tax introduced by the Italian government and how it will affect the luxury real estate market in Costa Smeralda.
It is not surprising that the first encouraging signs are coming from Costa Smeralda: the Arzachena municipality has already received 14 applications since the new tax came into effect in March 2017.
What is the new flat tax and how to apply?
The new "flat rate tax" of 100,000 euro a year will apply to all foreigners who will declare being Italy the country of their first residence, for tax purposes. Such possibility can also be extended to any family member, for an amount of €25,000 per member per year. This flat tax replaces any personal income tax normally due on any foreign income.
This privileged tax status is available for up to 15 years.
The payment must be done in one solution for every fiscal year covered by the tax, within the deadline for the payment of the income tax balance.
The flat tax covers the income produced abroad but does not apply to capital gains earned through the sale of financial holdings during the first five tax years of validity of the measure.
The request can be filed in person, sent by certified mail.
Costa Smeralda among the luxury destinations
Thanks to its timeless charm, unspoiled beaches, splendid nature and glamorous lifestyle, Costa Smeralda since the '60s had become the privileged holiday destination of an international jet set.
Every summer, VIPs, Russian oligarchs and world figures in politics and culture, choose Costa Smeralda for its security, natural luxury and its exclusivity.
These are the reasons why Costa Smeralda is one of the best candidate region among the holiday destinations for the new Italian fiscal residences.