Rent profitably and securely - with Engel & Völkers Luxembourg
Take advantage of the full potential when renting your property in Luxembourg

The letting of apartments, semi-detached houses or single-family homes promises regular income and can develop into an economically worthwhile project. From the very beginning, however, there are a few basic aspects to consider in order to fully exploit the potential of your real estate in the long term. As a future landlord, you expect both rights and obligations and conditions, which you should be fully aware of.
Let us provide you with personal advice on all aspects of renting. Feel free to contact our experts for rental.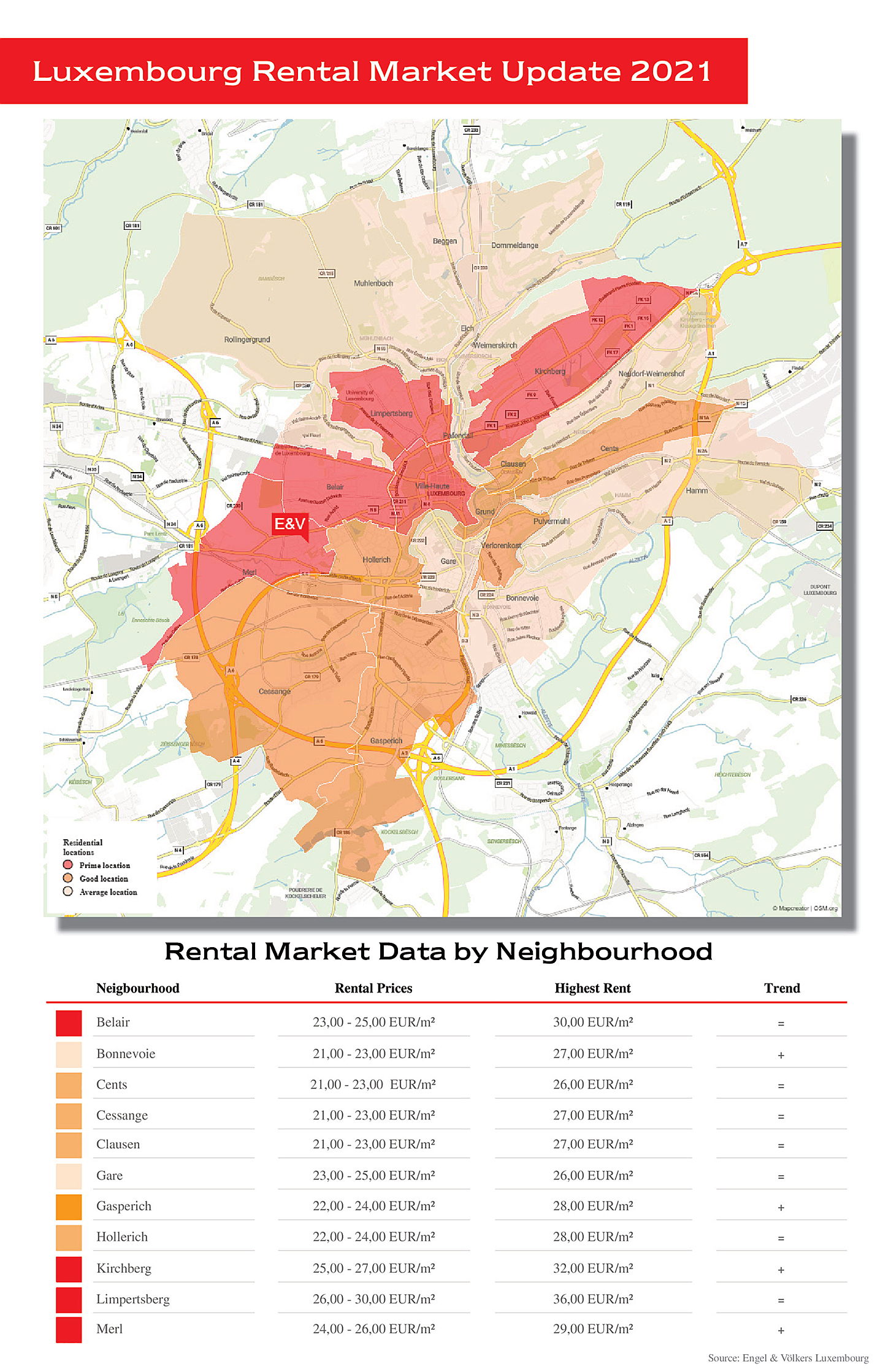 Our rental properties in Luxembourg
Rent out your residential property with maximum profit: Engel & Völkers Luxembourg will consult you
If you as a real estate owner would like to use your flat, house or apartment economically in the long term, the rental of the property is a good option. However, it is important to take various general conditions into account when calculating the monthly rent. This results in important rules for the rent and its increase, which you should know in order to create an always correct, profitable and for all parties satisfying tenancy. After all, in addition to a positive financial development, a good relationship between landlord and tenant is essential for the long-term success of your rental project.
Adapt the rent to local standards
In the lead-up to viewing appointments and contract negotiations, prospective tenants inform themselves - especially in times of the internet - about the usual range of rental prices within the city or region concerned. Is your price calculation below the locally usual rent? You may be able to increase the rent without reducing the attractiveness of the offer.
Modernisations in a house or apartment are a reason for higher rents
If you own a property in Luxembourg that has contemporary features or has been recently modernised, higher prices may be charged. Here, arguments such as increased quality of living and extended usage options - for example, an elevator - provide the basis for a modernization surcharge, the calculation of which must be communicated transparently to the tenant. As a landlord, you have the right to modernise your home, which will help you keep the property competitive on the market and increase its attractiveness. According to current tenancy law, your current tenant is required to approve such modernisation measures without the need for his or her consent.
We at Engel & Völkers Luxembourg let your property
Do you have to change tenants again or is your house, villa or apartment still empty? Many owners try to offer their property privately. In addition to a high investment of time, there are also high marketing costs. On the other hand, those looking for a property are increasingly approaching the real estate agent in order to extend their search to the entire property market. You too can benefit from the international reputation and many years of experience of Engel & Völkers. Thanks to our extensive network, we have the opportunity to present your local property to solvent and national customers.
A wide range of marketing activities as well as numerous customers already listed with us create the best conditions for a large number of potential tenants. Reason enough to place this concern in the hands of the experts at Engel & Völkers. We offer you an all-round marketing service, starting with a well-founded market price estimate and extending to the successful conclusion of the contract and the handover of the property. To us, letting your property optimally means achieving the best possible rental price and quickly finding a suitable and solvent tenant.
Our competent rental team in Luxembourg
Engel & Völkers is now also at home in Luxembourg - in 2019 we opened our office in Merl in the heart of the Luxembourg capital.
Interested? Contact us! Our team of experts will give you competent advice on all questions concerning rentals and lettings in Luxembourg.
Contact us now
Engel & Völkers
Licence Partner Luxembourg