Boland Wine - Cappupino Ccinotage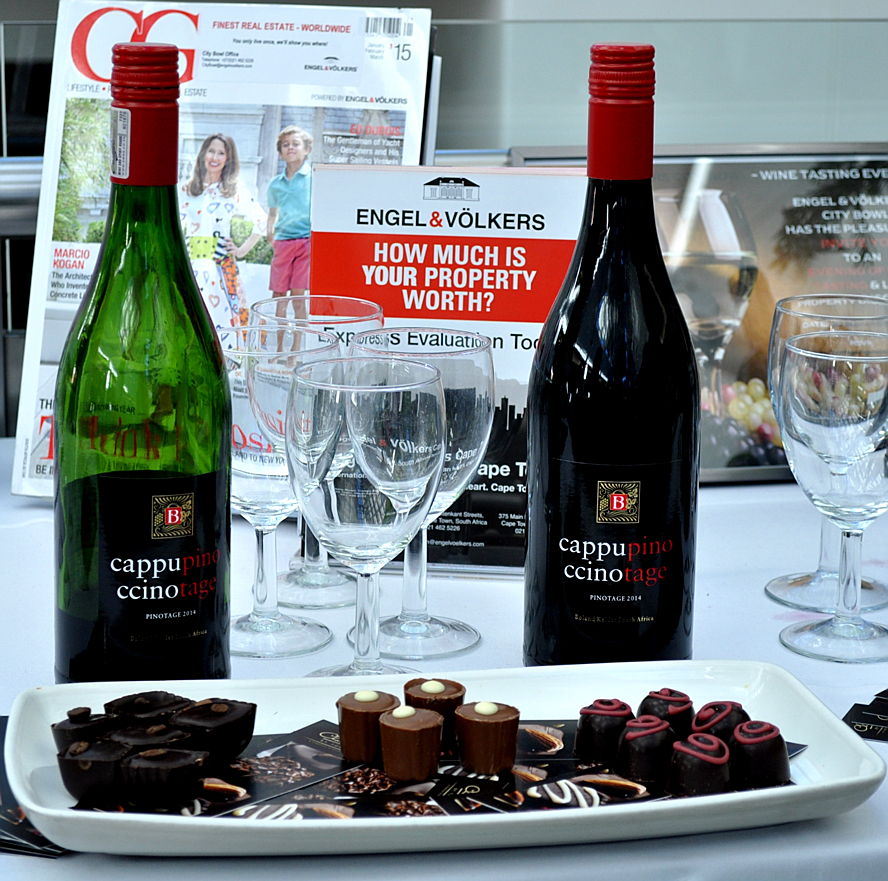 Engel & Völkers, City bowl hosted a wine and truffle pairing a month ago for their clients in collaboration with the Gardens shopping centre "swing into summer" expo, read more about it here.
To make the event a huge success two wine cellars sponsor some delicious wine, as well as the local chocolate shop that sponsored the wonderful truffles to make our event a success.

One of the wine cellar's to sponsor a delicious well known wine was Boland Wine Cellars - the Cappupino Ccinotage.
Boland wine Cellars are built on the principle of collaboration, Boland Cellar has grown to become one of the largest producer cellars in South Africa. Through our ethos of working together with local farmers and growers, we bring together the finest grapes, talent and wine-making expertise from across the region, drawing on each to craft wines of true excellence.

Our wines are inspired by nature. Just as each vine grows in harmony with the soil, the sun and the wind to produce grapes of unique character and quality, each of our wines are crafted with collaboration to bring you the very best the Boland region has to offer.
Boland Cellar's Pinotage vineyards deliver fruit for different styles of wine from our varying climatic zones within the Paarl and Coastal areas.The grapes selected for our Cappupino ccinotage come from deep shale soil vineyards that ripen later,resulting in a longer hanging time and producing super ripe fruit. This together with the history of which blocks produce the best results for this coffee style Pinotage, gives us the ability to craft a wine that delivers outstanding results with heavy toasted French oak staves.The grapes must have dark pip ripeness preferably combined with sweet plum and succulent ripe fruit. Grapes were predominantly selected from the Paardeberg area which delivers fruit without any jammy notes.After careful selection, the grapes were harvested from different growers, early in the morning, to retain the robust fruit flavours.


The quintessential earthiness and sweet red berry flavours of Pinotage are balanced with softer mocha & ground coffee flavours resulting from more time spent in the barrel.The result is a seductive 'coffee' styled Pinotage known as CAPPUPINO CCINOTAGE which have become popular the across the world.
WINEMAKING
The grapes selected from various growers were vinified separately to retain unique flavour profiles and create building blocks for the final product. After crushing, the grapes underwent a two-day cold-soaking period and was inoculated with a South African yeast strain.The wine fermented cold and slowly and was taken from the skins at about three degrees balling before adding selected French oak charred wood staves that delivers rich coffee and chocolate characters on the palate. Due to further fermentation on the wood, good wood tannin interaction was achieved. Uniquely, we like to follow a style that expresses cultivar fruit in balance with the oak.After malolactic fermentation, the different building blocks were carefully blended to create our own unique coffee style Pinotage.
TASTING NOTE
The Boland Cellar Coffee-Style Pinotage delivers layers of dark prune, plum and sweet blueberry flavours with a prominent cedar French oak finish, reminiscent of Mocha Java. Due to the beautiful extraction of Pinotage fruit flavours, the oak was well integrated and delivered a wine with a creamy lingering finish.
Boland wine cellars are situated in Paarl, but their wines can be found in many local bottle stores and can be ordered online.
Click here to order online and read more about their delicious wines.
Thank you Boland wines for your delicious wine and sponsoring us, our clients really enjoyed the choice of wine and was complemented by the espresso truffle.