Properties in Zell am See – dream-like living with Engel & Völkers
Zell am See is picturesquely situated in the Salzburg region and together with Kaprun, it is one of the most popular holiday regions in Austria. The summit of the local mountain, Schmittenhöhe, is almost 2,000 metres above sea level and provides ideal conditions for skiing fun in the winter and interesting hikes in the summer. With fewer than 10,000 residents, the town of Zell am See offers wonderful opportunities for you to buy or rent a centrally located property by the lake with a panoramic view of the mountains. Would you like to purchase a beautiful flat, plot of land or a house in Zell am See? How about a house for the whole family, or a country home for holidays or weekends? If you're searching for a property in Zell and See, please get in touch with the real estate agents at Engel & Völkers, or send us your search request online.
Find properties with real estate agent Engel & Völkers in Zell am See
In addition to properties available for rental or sale in Zell am See, as a well-established real​estate agent in the area we also offer you interesting objects such as flats, houses and financial investments in the federal states of Salzburg and Tyrol. Our real estate agents in Zell am See are here to utilise their local market nowledge and advise you in a professional manner. In our shops in Kitzbühel, St. Johann, Kirchberg, Seefeld and Innsbruck, our agents advise you with the ame level of competency and passion for real estate. Numerous places worth seeing and attractive properties are located in the surrounding area of Zell am See.
Here you can find out how far they are from Zell am See:
Properties on the ski lift for Ski In Ski Out in Kaprun-Kitzsteinhorn – 8 km
Houses in Saalfelden am Steinernen Meer – 13 km
Properties in Saalbach-Hinterglemm – 18 km
Buy flats in Rauris in the Rauris Valley – 27 km
Properties in Mittersill in Salzburg's Pinzgau – 28 km
Grossglockner High Alpine Road – 27 km
Always well advised: Buying a property in Zell am See with Engel & Völkers


For more than four decades, Engel & Völkers has enjoyed exceptional success on international real estate markets and become one of the leading global marketers for high-value and luxury residential properties. Are you searching for a property in Zell am See, another part of the Salzburg region or in the Tyrolean Alpine region? Are you looking for a fairy-tale property right by Lake Zell or in the Alps for your own use, as an investment or to rent out to tourists? Would you like a luxury flat with a balcony and a view of the lake, a furnished flat with one or two rooms to rent, or a house with a terrace and a garden? If so, we are your real estate agent for Tyrol and the region Zell am See.


Below you will find further information about current selling prices in some places in Austria: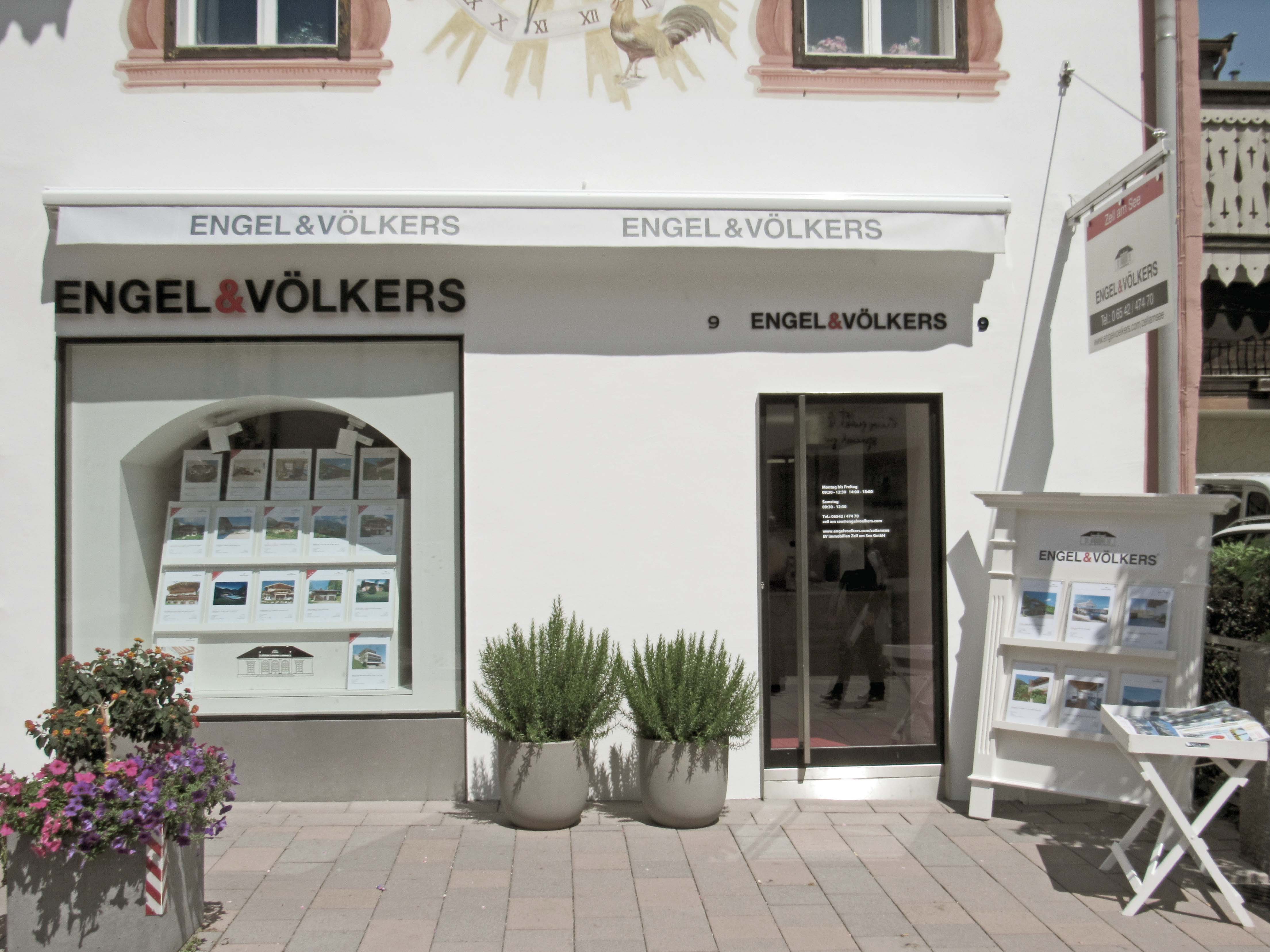 Engel & Völkers Zell am See
Seegasse, 9
5700 Zell am See
Österreich
Selling or renting out: Properties in Zell am See

Are you looking to sell your property in Zell am See? Allow our real estate advisors to prepare a comprehensive and transparent property valuation, which is free of charge and non-binding. We will visit and take a look at your flat or house as well as the estate and calculate the market value of your property in Zell am See based upon our comprehensive database with comparable data from similar properties. This provides you, as the owner, with detailed information about the condition, the amenities and further factors, which have an influence on the selling price. If you are convinced by our services, you can then engage us exclusively to sell your property and enjoy the advantages of working together with a real estate agent with an international network and an array of solvent potential buyers as well as marketing methods.

Searching for a property in Zell am See? Engel & Völkers will find it!

​Do you already have an idea of how your new property should be? Please go ahead and fill out a search request for Tyrol or Zell am See – there are no obligations! Our real estate advisors will be pleased to present those properties currently on the market, which meet your criteria! Whilst you can find many of our properties online, we are able to present further properties in Zell am See or other regions, for which the owners have requested a discreet sale. With the help of our real estate agents in Zell am See as well as their colleagues in the other shops in Tyrol and Salzburg, you can purchase many different kinds of property:
Sell a house in Tyrol
Buy a chalet in Kitzbühel
Buy land in Tyrol
Buy a house in Tyrol
Properties in Tyrol
Buy a flat in Tyrol
New-build projects in Innsbruck
Buy a flat in Innsbruck
Buy a house in Kitzbühel
Properties in Seefeld in Tyrol
Penthouse in Tyrol
Buy a house in Innsbruck
Properties in Kitzbühel
Properties in Seefeld
Properties in Innsbruck
Contact us now
Engel & Völkers
Licence Partner Alpine Region Tyrol & Salzburger Land
Vorderstadt 11

Österreich