The best foundations for good advice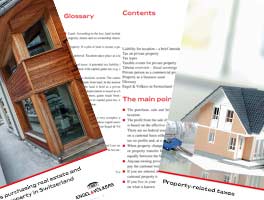 We would like to share our expertise and give you a piece of our experience and our knowledge in the form of advisors.

In our advisors "foreigners purchasing real estate and residential property in Switzerland", known under the name Lex Koller, and "Property-related taxes", we have combined the most important things for you as a seller and buyer of a property.

The advisors are always available online as e-book via the following links:
> "Lex Koller" Advisor

> "Property-related taxes" Advisor

You might be interested in a print version? Then contact us or your nearest Engel & Völkers Shop.


If you want a personal consultation, our experienced experts will be happy to assist you. Here is an overview of our locations in Switzerland.