Valuation of apartment buildings in Berlin: online, instant & free of charge
*Welcome to the Berlin of opportunities: Request a property valuation now!

With our expertise as the No.1* in the brokerage of multi-family houses in Germany, we offer you more than just an up-to-date inventory of your real estate assets. We also look at the potential for increasing the value of your property - and what additional measures can be taken to positively influence this. We are also happy to answer your questions about inheritance and renovation, for example.
Request a free real estate valuation now:
Would you like to quickly and easily find out the current value of your apartment building or residential and commercial property in Berlin online? The SONAR valuation tool from Engel & Völkers Commercial Berlin provides you with an uncomplicated and completely non-binding initial indication of the current value of your apartment building or residential and commercial property in Berlin. Or decide directly for a detailed valuation by one of our experts.

How does the online valuation for apartment buildings in Berlin work?
It's very simple: In our SONAR portal, simply enter the address of your property, the total area and the annual net base rental income. With the help of our extensive database, you will immediately be presented with the current estimated value of your property after confirming your e-mail address. In the future, you can easily track the value development of your residential and commercial properties as well as apartment buildings online – free of charge and without any obligation.
As Germany's market leader for the sale of apartment buildings and residential and commercial properties, Engel & Völkers Commercial has an extensive database at its disposal to reliably assess the market value of your property portfolio online.
The advantages of our direct online evaluation at a glance
Free of charge: The valuation of your properties via SONAR is completely free of charge for you.
Fast: You receive an individual valuation result for your property directly after entering the data.
Substantiated: Our longstanding experience in brokering real estate coupled with our extensive database allow us to provide you with a well-founded valuation result.
Your property in detail – with our expert valuation
If you'd like to find out more about the potential of your Berlin property beyond the direct online valuation, our property experts would be happy to prepare a comprehensive market price and potential analysis. Simply select "Expert valuation".

Do you have questions about our real estate valuation? We are happy to help you!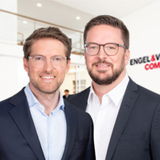 Gerrit Hunsdick & Julian Männel
Team leader acquisition investment residential and commercial properties
Thank you for your interest in our service. We will contact you as soon as possible.

*Nettoprov. sale apartment buildings Germany 2020 (Immobilienmanager 10/21)

Contact us now
Engel & Völkers
Licence Partner Commercial Berlin
Joachimsthaler Straße 1

Germany
Opening hours:
Mon - Fri from 9 am to 6 pm