An elegant home in the best location of Munich
Click here for the Engel & Völkers property listing for Munich.

Herzogpark: Most popular district in Munich's history
The Herzogpark is counted to the best-known district of Bogenhausen. It's restricted of the Isar and the Isar bank. The Herzogpark first occurred at the beginning of the 19th century.
The landscape gardener Friedrich Ludwig von Sckell created the beautiful garden in this area for the Minister Montgelas. Lately, Herzog Max bought this plot and the name of this area was born.
The social Highlights of the district Herzogpark started in the 1920s when Operators, businessmen, famous scientists and artists - one of those was Thomas Mann - decided to build houses there. It emerged to a sophisticated social life.
The Herzogpark is characterised by gorgeous estates and modern properties. The district offers a lot of opportunities because of its perfect location. Whether a relaxed stroll along the Isar or a visit to the popular sightseeings of Bogenhausen such as the Friedensengel, the Villa Stuck or the Prinzregententheater.
Grocery stores for your daily needs are located on the Kufsteiner Platz. There are a delicatessen shops, pharmacies, butchers shops, perfumeries and hairdressers.
You can reach the city centre comfortably by car or by bus. Furthermore, you have the best possibilities to reach Munich Airport.
Engel & Völkers is your real estate agent for the district Herzogpark. If you have any questions regarding real estate sale, purchase or rent, feel free to call +49 89 998 996 0 or via e-mail at muenchen@engelvoelkers.com or just visit us at our nearest shop in the Ismaninger Straße 78 in Bogenhausen.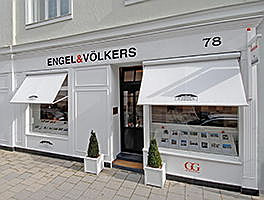 We are happy to advise you. Contact us.
Ismaninger Straße 78 | 81675 Munich
Phone