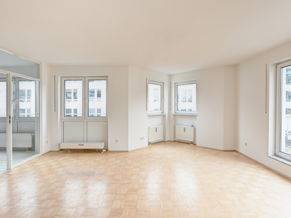 Modern - quiet - flexible - 3 rooms with rooftop terrace and balcony
A home in the heart of the city center of Munich.
The apartment is located in Munich´s Ludwigsvorstadt, close to the idyllic St. Pauls Square. Quiet and peaceful in the backyard the property shields itself from the colourful hustle and bustle of the city. The living- and dining area is lightflooded, and the terrace is accessible from here. The separate kitchen is designed openly by glass elements. The bedroom with adjoining balcony is spacious, the nursery with bay-window like room design offers a special living ambience. A generous hall with storage possibilities and an extra wide underground parking space complete this apartment.

Location: Ludwigsvorstadt – Munich
Living space: approx. 98 sqm
Month: July 2019
Time to market: 12 weeks