Real estate guide in Paris 6th district
The Odéon area in the 6th district of Paris
The Saint-Sulpice-Rennes area in the 6th district of Paris
The Saint-Germain-Des-Prés area in the 6th district of Paris
The Luxembourg Gardens in the 6th district of Paris
Invest in real estate in the Paris 6th arrondissement
The 6th district of Paris is located between the Seine River, the Boulevard Saint-Michel and the Boulevard Montparnasse.

This district is known for its paved streets, the mythical atmosphere of Saint-Germain-des-Prés, its many shops, cafes and prestigious universities. A cultural and artistic centre, the 6th district is renowned for being a gathering point for artists and intellectuals. The famous Jean-Paul Sartre and Simone de Beauvoir used to meet at the Café de Flore or Les Deux Magots to philosophise, debate and imagine the world of tomorrow.
The 6th district has several major assets for a successful real estate investment in Paris. People go there to enjoy the imposing Luxembourg Gardens and to stroll between art galleries, individual shops and museums. This district embodies the elegance of Paris as well as art and culture, and is home to many art cinemas, show venues and local theatres.
Made of elegant buildings and luxurious apartments, the 6th district is one of the most popular districts of the capital. It is a family and tourist-oriented district, very dynamic and lively area, mainly inhabited by a well-off population. The presence of prestigious universities and high-schools attracts many students from all over the world.
While walking around the 6th district, you can enjoy imposing stone facades, charming alleys and courtyards hidden behind large carriage gates. The 6th district ticks a lot of boxes for buyers wishing to enjoy the Parisian lifestyle in a very pleasant and refined environment.
This district is made up of four main areas: the lively Odéon area, the famous Saint-Germain-des-Prés area, the Saint-Sulpice-Rennes area and finally the green area of Luxembourg Gardens.
The Odéon area is particularly appreciated for its atmosphere, its numerous cafes and typical breweries where Parisians meet for a drink, to share some finger food and to enjoy a good night out. Odéon is also known for hosting many art galleries and theatres including the famous Odéon theatre where you can enjoy amazing classical and contemporary French plays. Local shops and popular shop brands populate the neighbourhood, creating a small village feel.
The Odéon area is full of elegant apartments with high ceilings, exposed beams and period parquet floorings.
The Saint-Sulpice-Rennes area in the 6th district of Paris
The Saint-Sulpice-Rennes area is very lively and attracts tourists who come to admire the sublime Saint-Sulpice church and its baroque style. It also features smaller galleries and more intimate museums. Adorned with luxury stores and large retailers, fashionistas will be delighted to walk up the Rennes street, going from one shop to another with the only goal to expand their wardrobe.
Large modern buildings and older architecture define the landscape of this neighbourhood that many buyers find appealing. Punctuated with terraces and Parisian bistrots, the Saint-Sulpice-Rennes area is also appreciated for its great restaurants and its several places to go out and party. A crossing and meeting point, the Saint-Sulpice-Rennes area is sought after by investors looking for the perfect location in the capital and the immediate access to several amenities, facilitated by the nearby Montparnasse train station.
The Saint-Germain-Des-Prés area in the 6th district of Paris
The Saint-Germain-Des-Prés area is an artistic and cultural centre in Paris. It is known to have been the meeting place of philosophical scholars, talented writers and influential erudites. Visited by tourists from all over the world, the Saint-Germain-Des-Prés area seduces visitors and buyers with its charm, its mythical cafes and Parisian bistrots. Art galleries, shops and major brands delight fashion enthusiasts. Decorated with Parisian buildings, atypical facades and high ceilings, the Saint-Germain-Des-Prés neighbourhood offers exceptional real estate services. It is mainly populated by wealthy families and Parisians who have invested in a central and lively area with an excellent quality of life.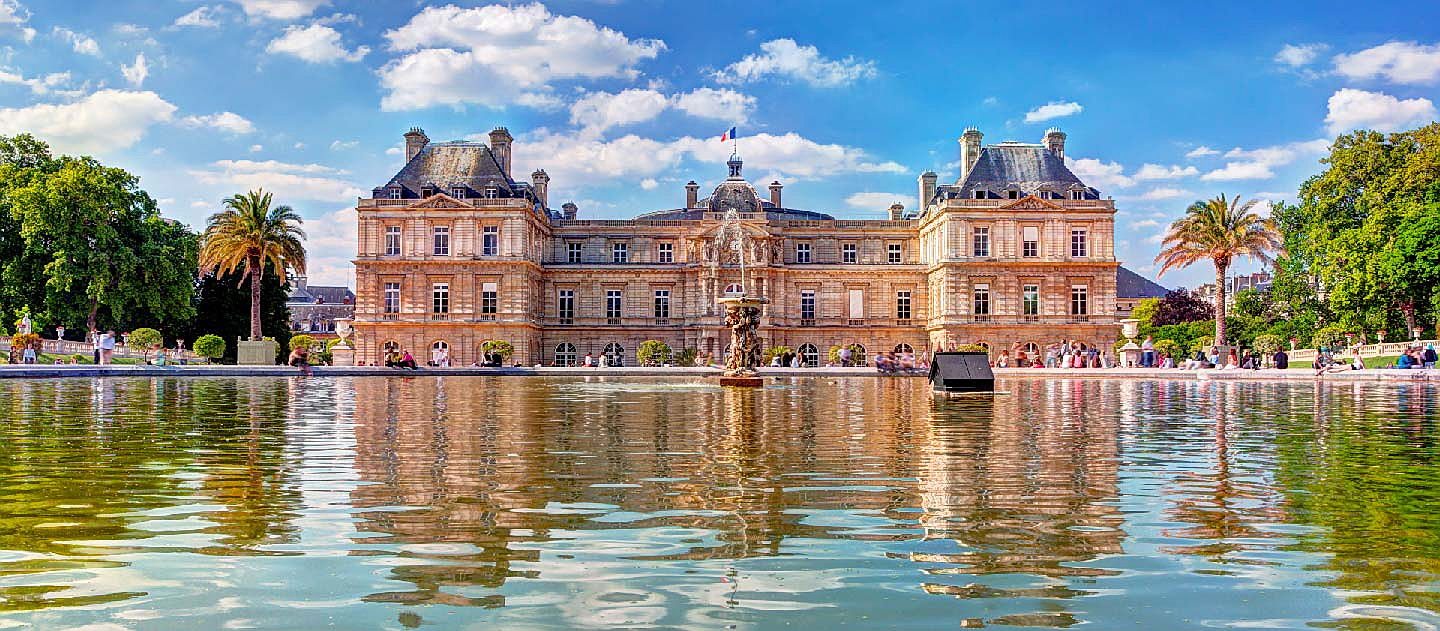 The Luxembourg Gardens is a famous meeting place for Parisians during summertime.
This garden was founded in 1612 at the request of the Queen of France Marie de Medicis. French decor, playgrounds and tennis courts soon attracted athletes, children and students. Nowadays, it is mostly frequented by many tourists. However, the Luxembourg Gardens is also a cultural centre, thanks to the presence of the Luxembourg museum, as well as an institutional centre surrounding the Senate building, the high chamber of the French Parliament. The Luxembourg Gardens offers 25 hectares of greenery lined with gorgeous Haussmann buildings with stone facades and bright windows.
Real estate properties Paris 6
Investing in real estate in the Paris 6th arrondissement
The 6th district meets many criteria that are very appealing for investors. Lively, cultural and artistic, this district offers charming decor and typical Parisian architecture. This district is particularly sought after by buyers who want to enjoy its atmosphere, its cultural scene and luxury real estate properties. A true postcard setting, the 6th district of Paris appeals to both national (80%) and international (20%) buyers. Home ownership remains difficult because of the very high prices. The 6th district of Paris is among the most expensive districts in Paris, with a price per square meter of € 13,150.
In addition, the rental demand is very strong due to an increasing student population, young workers and families looking for a prestigious scholarship environment for their children.
Because it is a neighbourhood full of charm and character, the property market is particularly clogged because of the high demand. The acquisition of real estate in the 6th district is reserved for wealthy buyers looking to invest in a highly valuable property asset.