ONE FORTY WEST – At home up high
A high-rise that combines premium apartments with a four-star-plus hotel. In Frankfurt am Main, an exciting, dynamic and diverse metropolis. Begin a new chapter in a new building. Meet like minded people. Find peace and quiet. At home up high.
ONE FORTY WEST is right in the thick of the action: in the Senckenberg-Quartier in Frankfurt, between two vibrant districts, Westend and Bockenheim. The area is home to Frankfurt's Kultur-campus — combining art, culture, lifestyle, the Palmengarten and opera, with the Taunus mountains as its backdrop. Plus the international airport, the exhibition centre and excellent transport connections. A marvellous mix.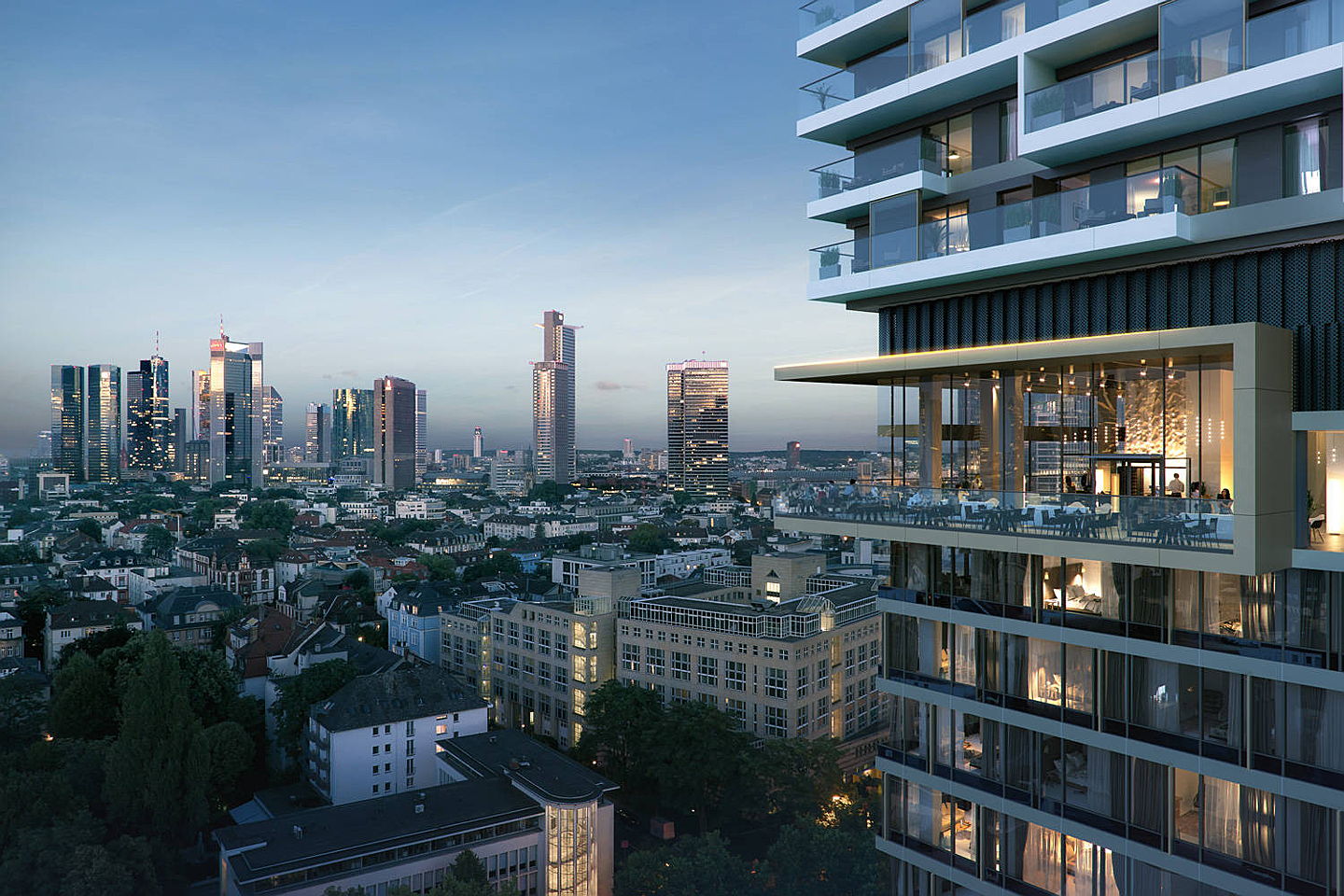 Hotel down below. Apartments up above. ONE FORTY WEST will have 187 premium apartments, some to rent, some to buy, located on floors 24 to 40. In other words, all residents will be able to enjoy the high life. It is a unique concept, and includes innovative mini penthouses on the upper floors. And best of all, every apartment, no matter what the size, has its own balcony. Whether a studio on floor 40, or 137square metres on floor 24,each apartment will boast fantastic views.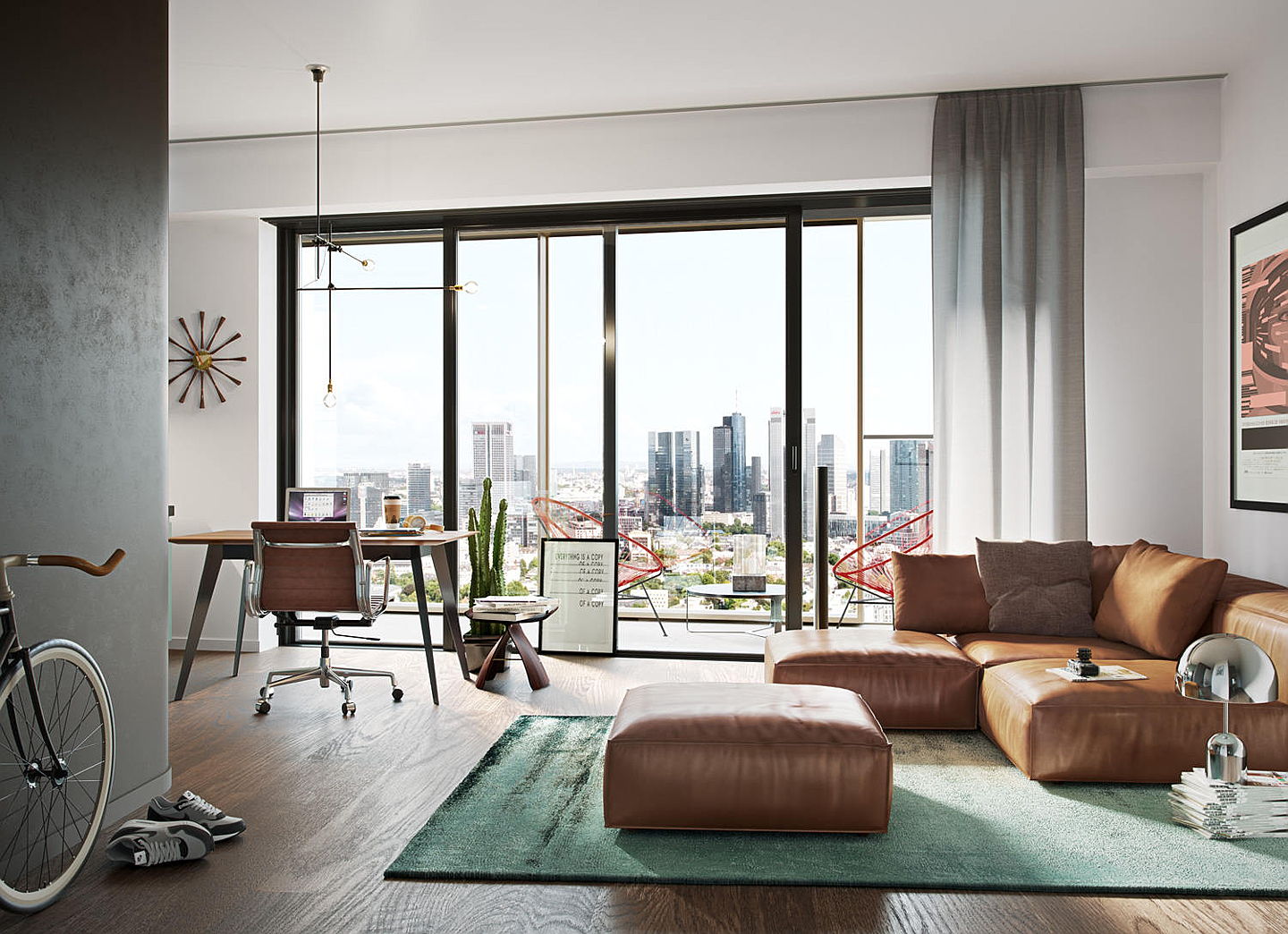 BE PART OF SOMETHING NEW


You arrive home, stroll onto the balcony, and take in your surroundings... and now? Simply relax at home, or head into town for the nightlife? Maybe the concierge knows something special. Hungry? The restaurant is just a lift ride away.

ONE FORTY WEST will include compact apartments and mini penthouses from approx. 50 square metres. They are small, beautiful and enjoy natural daylight — with full length panoramic windows, open-plan layouts, and balconies with glass balustrades. Heating, lighting, cooling and ventilation are practically invisible, and can be remotely controlled—even when you're not at home. And there are additional little luxuries on demand — from the hotel below.

For people with busy lives, a reliable concierge service is just the thing: the fridge will be full, shirts and blouses freshly ironed, and breakfast served whenever you want it. The bedroom, bathroom and WC are cleverly arranged to create a cohesive whole. And all feature a contemporary look and feel. Integrated storage space and top-quality surfaces keep life neat and clutter-free. Full length glass elements ensure that the bathroom enjoys natural sunlight. All this, and the city at your feet.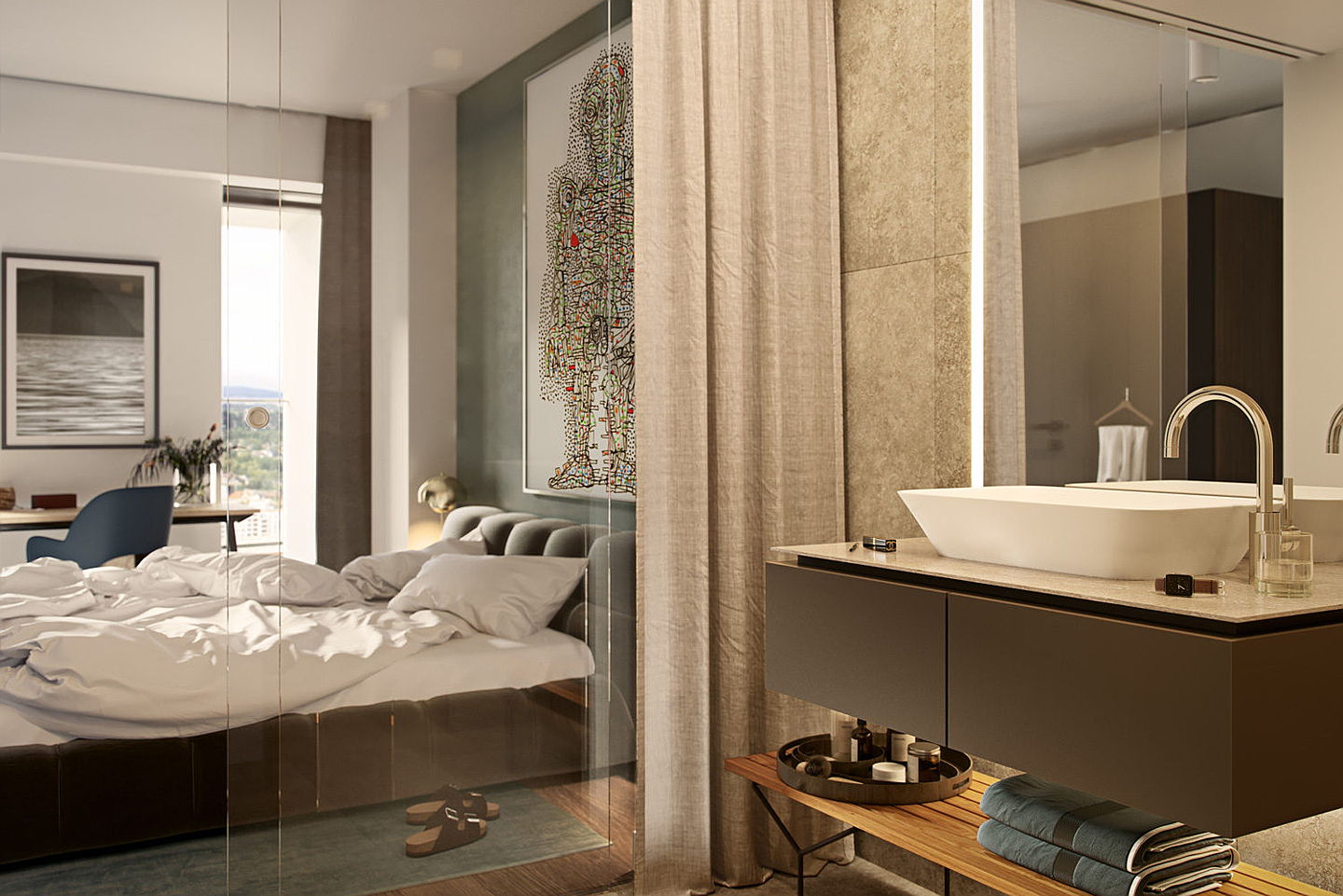 Oak wood flooring contrasts with smooth, white surfaces, creating a feeling of lightness and elegance. The open-plan dining-and-living area with floor-to-ceiling windows and balcony will allow you to create your own perfect, personal oasis. An up-to-date, international design language shapes the entire apartment, including the bathrooms with their broad tiles and wet rooms.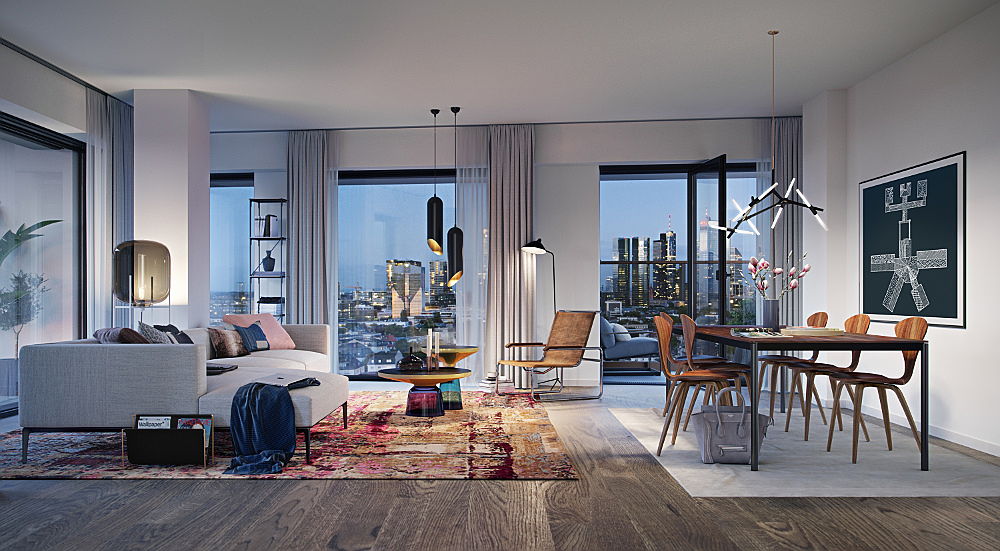 Moreover, ONE FORTY WEST makes use of state-of-the-art geothermic, thermoactive and district-heating technologies for heating and cooling. All bathrooms have underfloor heating. And all living areas are free from the clutter of radiators. Lighting, shade, temperature and ventilation can be fine-tuned to your preferences — even when you are not at home. So when you return from your business trip or holiday, you can be sure of entering a Goldilocks home: not too hot, not too cold.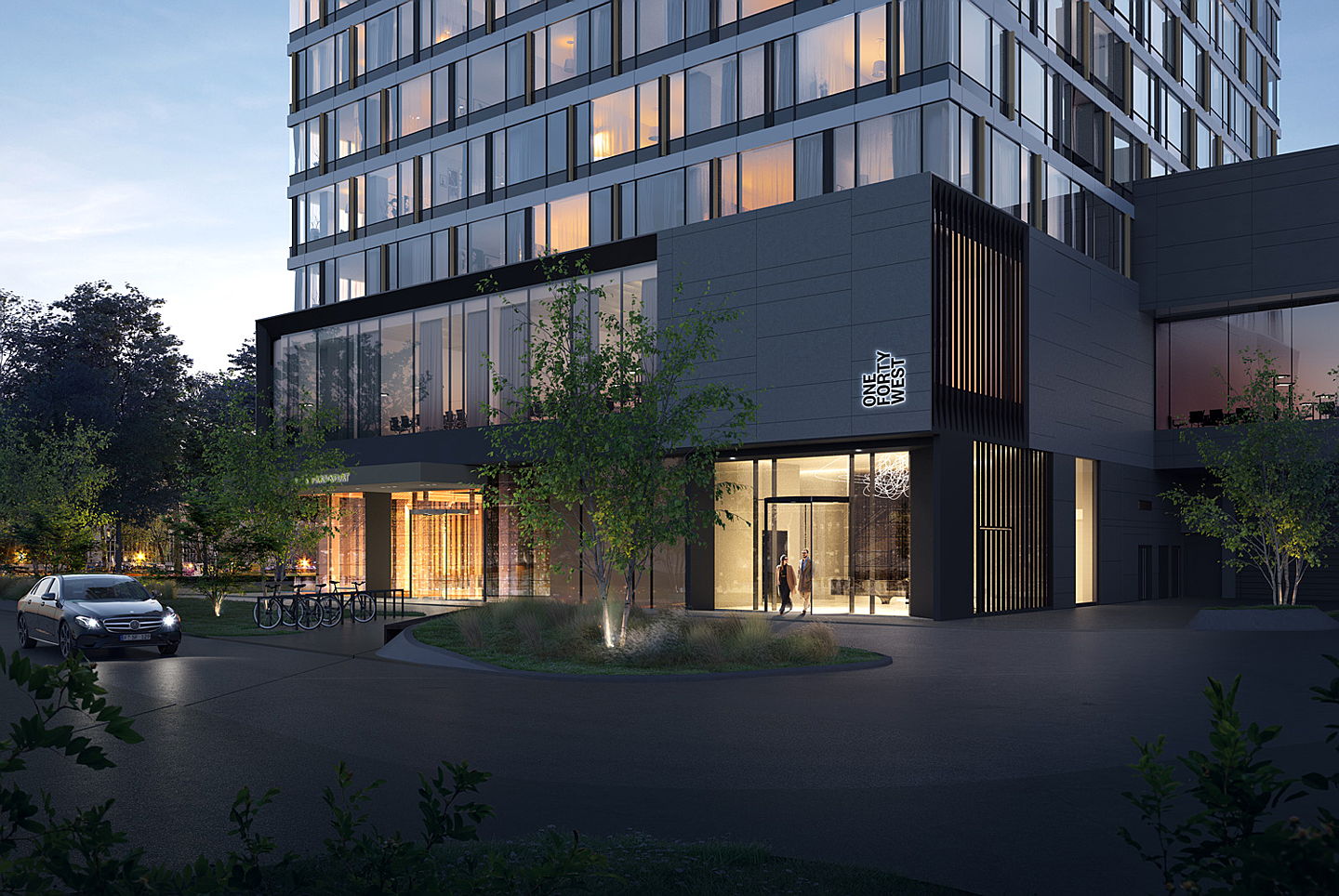 Frankfurt has always been in the midst of the action. In the middle ages, it was at the crossroads of Europe's main trading routes. It later became a sought-after venue for trade fairs, and the home to Germany's stock exchange, the Deutschmark, and later the euro. Today, it is one of the world's most important airport hubs, the largest Internet node, and the base for many leading banks and international businesses.


But what makes the city so fascinating? Above all its ability to combine contrasts with such confidence and verve: dynamism and Gemütlichkeit, big-city atmospherics and small-town familiarity, skyscrapers and green space, international flair and German Heimat, high-class imported champagne and locally brewed cider.

Kontaktieren Sie uns jetzt
Engel & Völkers
Lizenzpartner Frankfurt
Bockenheimer Landstraße 1

Deutschland
Montag - Freitag 09:00 - 18:00 Uhr