It's time to share
Success is a wonderful thing. Sharing that success even more so!
We believe that our business operations are inextricably linked with a duty to act in a socially responsible way. That is why we have founded the Engel & Völkers Charity e.V. in october 2008 to actively support a primary school project in Togo, West Africa. Aided by the generous support of our employees, Licence Partners and the Engel & Völkers Management Board, we are aiming together to finance the building of a primary school in this village, which will educate more than 200 children on a daily basis in the years to come.
Perceiving the world around us, aside from the finer things in life that Engel & Völkers in particular is so familiar with, we cannot fail to see the hardship and adversity in our world and it is our moral duty to provide help where it is most needed. The living conditions of children living in the so-called "Fourth World" leave no scope for evasion and discussion. Action must be taken and aid provided both quickly and without bureaucracy. It is not just financial interconnectedness that poses a challenge in our age of globalisation but above all social and humanitarian integration.
We cannot allow Africa to become a "forgotten continent". Our efforts are aimed at giving the children of Agbetiko/Togo the chance to lead a better life in their home country, on their continent, in our world. We have taken the first step and will be supporting this project in Togo in the long term with our established local partners on site. We very much hope that you feel impelled to lend your support to our joint efforts!
What is the situation like on the ground?
There is no reliable supply of electricity in Togo. Just 14% of the population have access to clean drinking water. Officially a school education is compulsory, but in reality every second child does not attend school. Parents cannot afford the school fees and children are seen as cheap agricultural labourers. Classrooms are overcrowded and teachers poorly educated. Not every village has a school either. Other problems facing the children include the absolute lack of medical provision, extreme weather conditions (high temperatures and heavy rainfall) and insufficient nutrition. The living conditions of children in Togo cannot be compared in any way to those of children in Europe (even those living in underprivileged areas and regions afflicted by conflict). The photo gallery cannot show the full extent of the hardship faced in Togo.
There are so many reasons why your help is needed!
Facts & Figures
Togo – is situated on the western coast of Africa
Togo – is one of the most densely populated regions of West Africa
Togo – has a population of 6 million people
Togo – was a protectorate of the German Empire from 1884 to 1914
Togo – was divided up between the United Kingdom and France after World War I
Togo – became a member of the United Nations in 1961
Togo – is a presidential republic
Togo – has an illiteracy rate of 47%
Togo – is a Fourth World country ranking at the bottom of the UN list of developing countries
Togo – is afflicted ever year by flooding
How attending school can change lives for the better!
Elias was born on 13 November 1958 with the name AHADZI YA WO Yikoennyame Wolali. He grew up in bitter poverty together with four siblings in Agbetiko. His father died in 1962, leaving his mother to struggle to bring up all five children with the meagre wages from her work in the fields. There wasn't enough money for all the children to attend school. As Elias now says, he only received a school education "by the grace of God".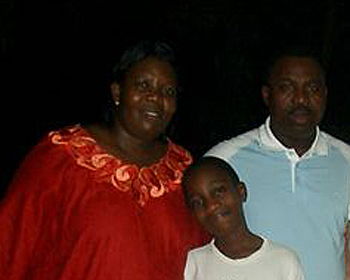 Elias was good enough to gain entry to university, where he studied for and qualified with a degree in Economics and Business Studies. He then went on to attend the National Business School, leaving in 1988 as a qualified Customs Inspector. To start with he was unemployed for a time, but then he received a position working at customs in Togo and remained in his home country for nine years.
His career brought him on two occasions to France, where he studied at the National College for Customs. Elias returned to Togo in 2001 as a Head Customs Inspector. Elias' wife studied Law at the University of Lomé/Togo and is now a consultant at the Court of Appeals in Lomé. Elias and his wife have one child and live in Togo.
Elias found his own path to success, but didn't forget his roots and his home village in the process. He returned and founded a humanitarian relief project. His dedication and generosity mean that children without any means are able to attend school. He has been involved in the setting up of schools in the past, and will be a great support to us in the realisation of our primary school in Agbetiko.
Our personal contact with Elias and our insight into the path his life has taken only strengthen our belief that a school education is so extremely important for the children in Africa. The funds raised by the Engel & Völkers Charity e.V. will make it possible for many children to attend primary school – and hopefully then to continue learning and other schools and colleges as they grow older. A first step towards a brighter future! Elias has already set an example for us.

What exactly is a primary school in Africa like?
With classes of around 50-60 children, it is extremely overcrowded by European standards. These classrooms are around 80 sqm in size however and therefore meet the standards as set by the World Bank. Children like going to school, even though they are very primitive and often lacking in air-conditioning and the necessary sanitary facilities. Generally speaking, there are no school canteens and no medical provision. Children see the chance to attend school as a great opportunity in their future lives. You can read more about how attending school can change the life of a Togolese boy or girl for the better under the section entitled "The country and people". This story has inspired us even more to focus our efforts in this area!

What is the vision for the project?
The children attending the primary school in future will learn how to read and write in the official language French, as well as learning arithmetic. French is the "1st foreign language" for children, as they speak various different dialects in their respective villages. This common language is the prerequisite for going on to attend secondary schools, which is funded in Togo by the state and by charitable means. Various cooperatives are in place to train craftsmen, who can then find employment in the country once they have qualified. The university in the capital Lomé offers the opportunity to study for various different academic degrees. Education in Africa is also an investment in the future!
What is the mission of the project?
The children in Togo want to learn! This will is impressively shown as pupils make their daily route to school of up to 10 kilometres in blisteringly hot temperatures (40 degrees!) or during the dangerous rainy season.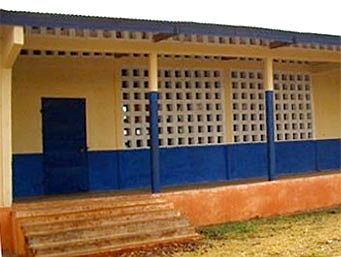 There aren't any school buses and children aren't accompanied to school by their parents. The 6-year-olds have to find their long way by themselves, as there isn't a school in every village. With our help, the village of Agbetiko will now receive a school of its own!
The first step for the children in Agbetiko will be to build the main school building and hire a teacher, who will teach the children in six primary school years. The school will be equipped with teaching materials, school uniforms and furniture. Further school buildings, a school canteen, a residential unit for employees and project leaders and a boarding house for children from villages located further away are the subsequent projects planned on the school site.
The mission is to ensure that around 200 children will be taught and complete their education at the new school in the years to come.
How will the project be sustained in the long term?
A long-term donation has already been made by the Engel & Völkers Management Board for ongoing operational costs incurred during the school year. These costs include maintenance expenses, school fees, salaries for teachers and project managers, and schooling material (books, pens, blackboards, furniture). Together with our partners on site, we will be able to continue working in Agbetiko in the long term with this financial support – once the planned school buildings have become a reality.
How will the village of Agbetiko contribute to the project's success?
The proactive support of the Committee for Village Development (CVD) on the one hand will be decisive in driving forward the building work and keeping costs low through internal labour. The women in the village will sew the school uniforms for the children – a very important "status symbol" for the children here in Togo. The king of Agbetiko has already designated a 20,000 sqm plot of land to the school project. Work has already been completed on building a water spring, and the further infrastructural developments (access routes, electricity, phone) can now follow. The local authorities are also helpful in the recruitment of suitable teaching staff.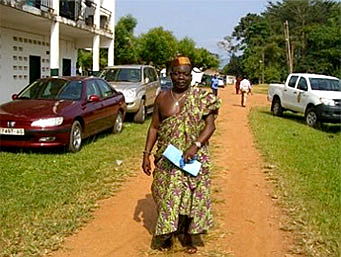 Contact us now
Vancouverstraße 2a

Germany

Fax:

+49(0)40 36 13 12 35