First class villas and houses in Harlaching/Menterschwaige
Harlaching - Relaxing living near the metropolis
Harlaching and Menterschwaige are amongst the most elegant and quiet residential areas in the south of Munich. Located directly at the Isar and surrounded by the beautiful forest area, Harlaching/Menterschwaige is combining nature and urban life. The area is dominated by traditional old buildings, magnificient villas and spacious single-family homes with secluded gardens. The neighbourhood is known for its sense of tradition, charm and its unique, unmistakable character - Let yourself be enchanted! Ideally connected to the public transport network of the Bavarian capital city, Munich can be reached easily within 20 minutes.
Located near the Isar, surrounded by the Perlacher Forest and meadows, the nature attracts a lot of visitors. The meadows of the river Isar are inviting for some relaxing walks along the river with friends and family. For sports enthusiasts, the surrounding area is ideal for jogging and cycling. Exclusive golf courses can be reached in only a few minutes. In addition, the Bavarian mountains and lakes are ideally accessible and perfect for full-day excursions. The zoo Hellabrunn and the training base of Bayern Munich are also popular destinations nearby the area of Harlaching. Well known is the manor Menterschwaige including the beer garden.
In Harlaching you'll find different, sociable and lively town festivals, on the Hans-Mielich-Platz there is a nice weekly market, where you can buy fresh local products. nursery schools, primary and secondary schools, several vocational schools, all shops for daily needs, doctors and hospitals are only a few minutes away by car.
A life in Harlaching/Menterschwaige or generally in the Munich South could be something for you? Our Engel & Völkers Team Munich South is available for any questions about the purchase, sale or long-term rental of first-class homes.
Simply call: +49 89 649 88 60 or visit Engel & Völkers shop Grünwald (Südliche Münchner Str.6a).
We are looking forward to your visit!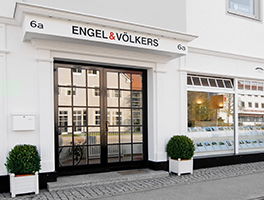 We are happy to advise you. Contact us.
Südliche Münchner Straße 6a | 82031 Grünwald
Phone