New Home Prices in Berlin
After peaking in 2019, construction activity in Berlin has decreased. A falling number of building permits means that this situation is not set to change any time soon. In addition to this, a growing number of large-volume new building projects are being accompanied by forward deals and build-and-hold strategies. Taken in combination this has resulted in decreasing supply coupled with stable and, in some locations still increasing, demand. "Since residential new building will be unable to meet demand in the short- and mid-term, prices are rising in all segments," says Hendrik Treff, Engel & Völkers Development Services Berlin.

What impact has the corona pandemic had on the market?

To date demand has primarily been driven by the desire for improved living conditions. The first visible effect of the pandemic has been difficulty in obtaining raw materials for residential building projects. Rising construction costs in combination with stable/consistent demand have resulted in higher purchase prices. Looking forward we also expect significant migratory movement among skilled young people in Berlin, which will further increase demand in a variety of segments. Typically, demand for rental apartments first increases and is then followed by stronger demand for homes to buy.
Which Berlin districts are new residential projects currently focusing on?

As prices have continued to rise over recent years, the "escape from the city" trend has become increasingly evident and has been fuelled by the pandemic. To date this trend has, however, not impacted demand for housing in city centre locations but instead has functioned more as an additional stimulus to demand in suburban areas. Good connections and infrastructure continue to be the key to project success. It is particularly noticeable that the southern area of Pankow has become a prime location, with many buyers and tenants giving it preference over the Prenzlauer Berg district. This trend can no longer be considered as merely a purely price-based change of focus.

Planned residential projects by living space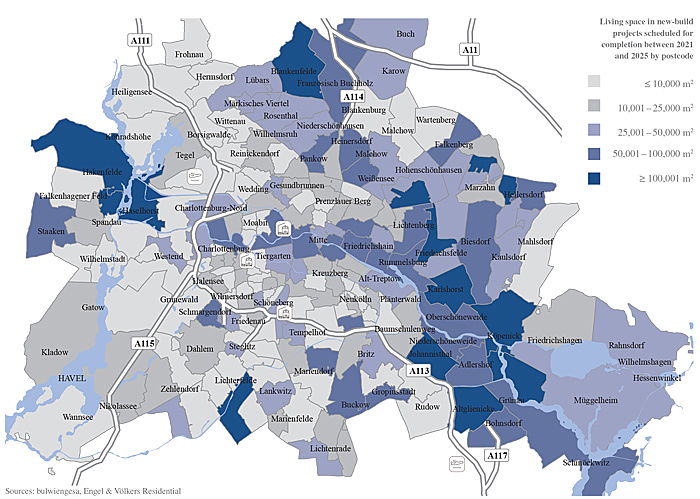 What demand trends are there in Berlin?

At present compact family apartments with a balcony or patio remain the most sought-after properties, with demand strong in all locations. Four-room apartments with a floor space of around 100 m² have become the norm and are thus on average 15 to 20 percent smaller than five years ago. The luxury segment is an exception to this development, with buyers and tenants expecting apartments to be larger.
The Konradshöhe area with its waterside location has become a new focus of attention and our experience with the "Havelland" project shows that it is attracting many clients who were not previously familiar with this part of Berlin. Following the closure of Tegel Airport Konradshöhe has become a very quiet and idyllic place to live.

Prices quoted for new-build freehold apartments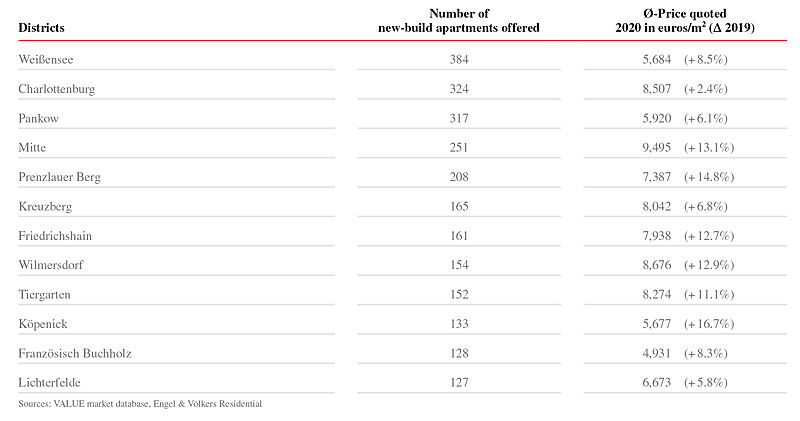 Residential real estate market locations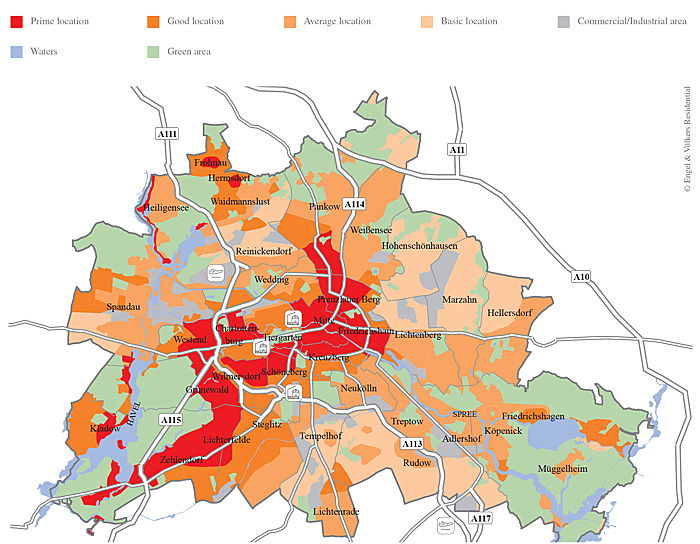 Typical new-build apartment in 2021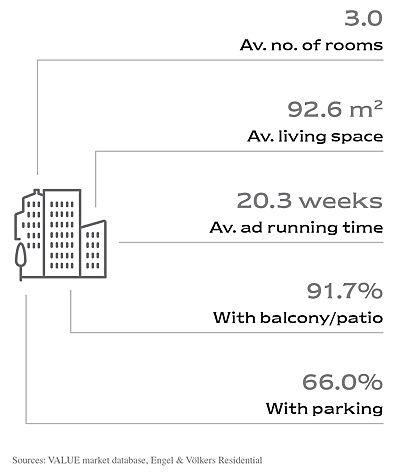 What your local expert says
Hendrik Treff: "Berlin is experiencing stable to increasing demand; a decline in supply; rising construction prices and a growing shortage of building plots. In combination with continuing low interest rates, this fundamental data means that the only forecast for the future can be that prices will rise even more, despite the fact that they are already high. The question is more how much higher prices will become and which locations will perform best.
I believe that micro-locations in established residential areas will experience further growth. These include waterside locations in Köpenick or Konradshöhe and in southern Pankow, with a strong increase in demand in the areas around Berlin. In this regard, there is an increasing focus on lakeside first and second homes."

Use our interactive graphics to compare Berlin with other top locations in Germany.

Please contact our Berlin team

Thank you for your request. We will contact you shortly.

Your Engel & Völkers Team