New Home Prices in Germany
Engel & Völkers examines the market for new building projects in Germany, in particular the new home prices in the top 7 cities in high demand: Berlin, Hamburg, Munich, Frankfurt, Cologne, Düsseldorf and Stuttgart.

Find out in which city the transaction volume in the area of new construction is highest. Where are the new home prices for condominiums the lowest? What rents can owners achieve? Compare new home prices and other key figures in up to seven cities using our interactive graphics.

Compare up to seven cities
(Click in the white space after selection)

High demand for new flats

New housing is required to cater to the demand which exists in all the country's growth regions. This in turn necessitates the approval of new land for construction; the densification of inner city areas; the repurposing of conversion areas or the full refurbishment of old properties.


Building plots are, however, usually scarce in urban areas and project development opportunities are therefore limited. Planners are responding to this by creating entire new districts within the scope of major urban development projects, providing housing for thousands of people.

At present a total of some 62,800 new apartments are required annually in Germany's first-tier cities, however in 2019 building permits were issued for only approx. 60,000 units while only 47,000 were completed. Although the number of new homes created in Germany has been rising continuously since 2009, supply is still insufficient to satisfy demand.

New construction requirements in 1st-tier cities up to 2030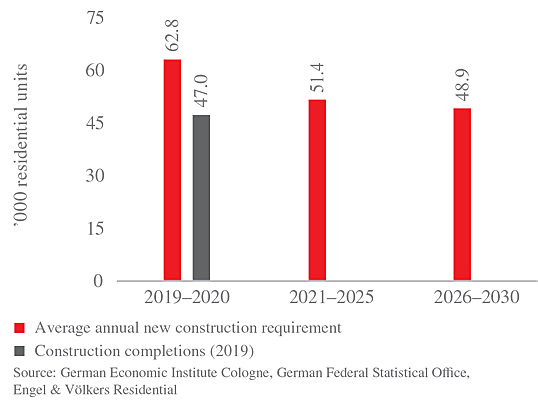 Inflow into the metropolises causes new home prices to rise

Price development clearly reflects the resulting strong excess demand. In early 2015 the average price for a newly constructed apartment in a Top 7 city was 4,801 euro per square meter. Just five years later this figure had risen to 7,565 euro per square meter – an increase of some 58 percent, while the price increase for the entire country in the same period was – just 36 percent or an average price of 4,657 euro per square meter.


This trend is expected to continue for as long as there is inflow to the metropolises and no significant increase in construction activity. Take a look at the special analyses of new home prices for the top cities of Berlin and Düsseldorf.

Learn more about the new home prices in...

Thank you for your request. We will contact you shortly.

Your Engel & Völkers Team
Contact us now
Engel & Völkers
New home prices Germany