New Home Prices in Germany
Engel & Völkers examines the market for new building projects in Germany, in particular the new home prices in the top 7 cities in high demand: Berlin and Düsseldorf (reports both english) as well as Hamburg, Munich, Frankfurt, Cologne and Stuttgart (reports all german).

Find out in which city the transaction volume in the area of new construction is highest. Where are the new home prices for condominiums the lowest? What rents can owners achieve? Compare new home prices and other key figures in up to seven cities using our interactive graphics.

Compare up to seven cities
(Click in the white space after selection)

Numerous factors are impacting the market

Soaring construction costs, rising interest rates, falling numbers of completed buildings – the new-build market has become far more challenging. In recent years there was only one direction for the market: up. In the period 2010 to 2020 there has been a continuous increase in the number of completions year on year, while the average square metre price for a new-build in Germany has almost doubled since 2012.
In addition to this, prolonged low interest rates have resulted in a further increase in demand for modern houses and apartments, which was already strong. Housing is in particularly short supply in Berlin, Hamburg, Munich, Cologne, Frankfurt, Düsseldorf and Stuttgart, Germany's 'Top 7' largest cities, which are also particularly popular.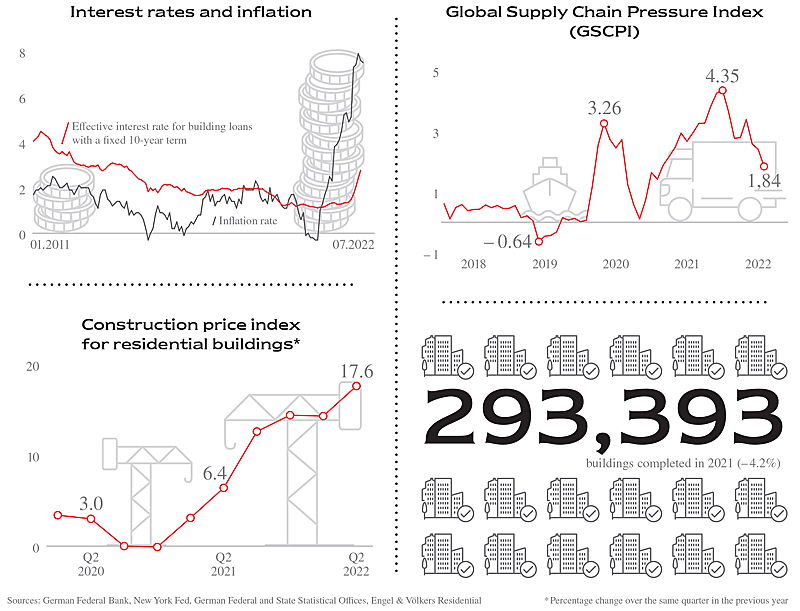 Effects in the new construction segment

Following a significant rise in inflation in the second half of 2021, the outbreak of war in the Ukraine in spring 2022 resulted in an even higher jump. In recent months the consumer price index has been more than 7 percent higher than in the previous year. Central banks have reacted to this by increasing base interest rates, which had remained unchanged since 2011. As soon as it became foreseeable that this would happen, there was a significant, rapid rise in interest rates for construction financing, which caused uncertainty on the residential real estate market.

In the new-build segment it has become harder for developers to achieve target prices since it is much more expensive for potential buyers to obtain external capital. Correspondingly, buyers with larger amounts of equity have been less impacted by the changes in circumstances and now face less competition when attempting to acquire desired properties.
Construction activity slumps
In six of the Top 7 cities the number of new buildings completed in 2021 had already fallen. The only increase was in Cologne, which had already recorded an extremely low figure for 2020. In Germany as a whole the newbuild completion figure fell for the first time in ten years. Although the number of building permits issued in recent years has remained stable overall, the number of properties on the market is not expected to increase significantly in the coming months.
According to information published by bulwiengesa, between 2021 and 2022 the number of development projects in the residential segment fell by 7.6 percent. Demand for new housing in the coming years will vary strongly from region to region.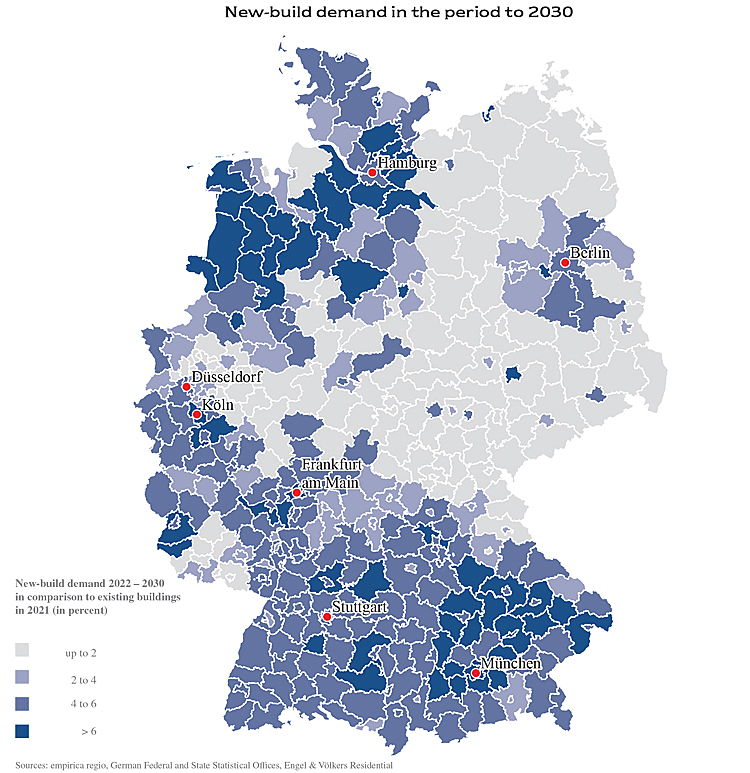 Sideways price movement expected

Future interest rate developments unclear Following a clear slowdown in interest rate rises in the middle of this year it remains to be seen how they will develop in the coming months. At present it is not possible to make accurate forecasts.

Easing of pressure on the global political situation and supply chains, in combination with a corresponding decline in inflation would also result in easing of pressure on interest rates. It is, however, still unclear it there will be any return to extremely low interest rates and this currently appears unlikely. Seen in historical terms, present interest rates must continue to be viewed as moderate.

Engel & Völkers therefore expects that buyers' current reticence to make purchases will not continue for long, since the market will accept the new situation. The continuing shortage of properties is expected to result in sideways movement of prices in many locations in the popular Top 7 cities; prices may, however, also increase again. In the current circumstances it is particularly important to obtain good advice.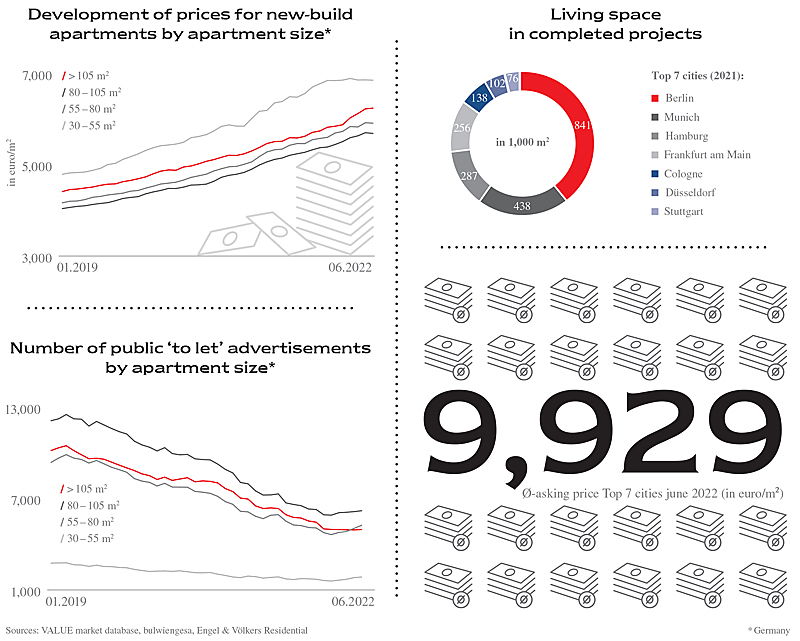 Learn more about the new home prices in...

Thank you for your request. We will contact you shortly.

Your Engel & Völkers Team