New Home Prices in Germany
Engel & Völkers examines the market for new building projects in Germany, in particular the new home prices in the top 7 cities in high demand: Berlin, Hamburg, Munich, Frankfurt, Cologne, Düsseldorf and Stuttgart.

Find out in which city the transaction volume in the area of new construction is highest. Where are the new home prices for condominiums the lowest? What rents can owners achieve? Compare new home prices and other key figures in up to seven cities using our interactive graphics.

Compare up to seven cities
(Click in the white space after selection)

High demand for new flats

Rising prices – Rising requirements – The new-build market is growing. The corona pandemic has not had any negative impact on demand for homes in Germany's major cities. Houses and apartments in the Top 7 cities of Berlin, Hamburg, Munich, Frankfurt, Cologne, Düsseldorf and Stuttgart are sought after.
After spending a prolonged period at home, quality of life has become more important to many people, as reflected in increased demand for newbuild properties. In the 2nd quarter of 2021 prices for new-build apartments in the Top 7 cities increased by an average of 11.8 percent over the same quarter in the previous year, the highest increase of recent years.
Construction price index for residential buildings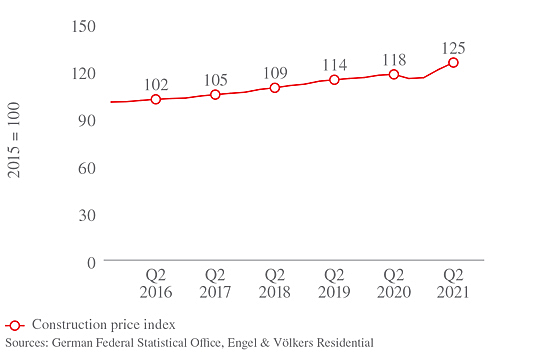 Increase of material costs

Problems with global supply chains and partially shut-down production facilities in recent months have resulted in significant price increases for key raw materials such as wood, steel, insulating materials and plastics. Companies are having to wait many months for supplies. This has driven prices up, with the second quarter of 2021 seeing the highest increases for 14 years.
Changes in demand patterns
Trends have been amplified by the pandemic. Long periods of time spent at home and working from home have increased the amount of living space which many people require. A growing number of tenants and owner-occupiers thus need apartments with an extra room and there is also more demand for larger apartments. It will, however, take some time to complete residential projects which reflect these new requirements.
In addition to this, it remains to be seen how the market for micro-apartments, which were in great demand pre-corona, will develop. Many projects in the micro-apartment, service apartment and co-living segments are currently coming onto the market, only to be faced with a slump in demand. Whether and how quickly these segments will recover is unclear.

The trend for "living in a green environment", which has been amplified by the pandemic, has led to a significant increase in demand in locations on the periphery of cities and in their hinterlands.
Construction intensity at district level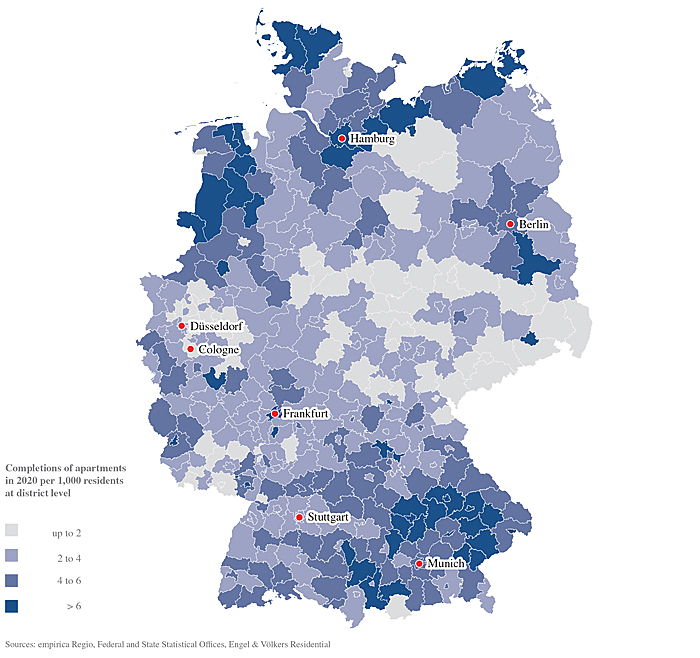 Forecast for the German market

In Germany's major cities it is probable that in the midterm the new-build segment will be characterised by strong demand and rising prices. As long as interest rates remain low; construction prices high and there is a shortage of building plots, there can be no other alternative forecast. Changes in buyers' demand patterns will force developers to revise future residential projects accordingly and there will thus be a corresponding delay before the residential offering can react to new requirements.
Learn more about the new home prices in...

Thank you for your request. We will contact you shortly.

Your Engel & Völkers Team