New Home Prices in Düsseldorf
The number of new apartments in North Rhine-Westphalia's capital is declining. Demand, which is already strong, has further increased. At present clients searching for properties are, however, not yet willing to accept the resulting significant rises in prices for available offerings. Consequently, this has led to much longer selling cycles. The corona pandemic has also caused considerable completion delays for construction projects. "This current situation is taking a heavy toll on buyers' patience and general satisfaction," Birgit Pfeiffer, Engel & Völkers New Developments Düsseldorf, explains. "Instead of the price discounts which some customers expected, prices have actually been increased by large amount during the selling process."

What special characteristics does the Düsseldorf market have?

Düsseldorf is 'manageable' in terms of size. Most of its districts have developed very positively in terms of quality of life and housing stock. Vacant plots are, however, extremely scarce and existing properties must be demolished to create new homes. As a result the construction of social housing is often not possible, while submarkets with stylish, usually premium newly constructed properties are correspondingly more attractive. Parallel to this, there is a growing trend for the conversion of existing spaces, for example repurposing of primarily industrial areas into residential ones by demolishing factories and upgrading vacant plots by building modern apartments.
Which districts are new residential projects currently focusing on?

Response to top prices in prime locations is currently sluggish. Many purchasers are prepared to accept a location which is not quite as good if the prices there are lower. There continues to be a strong demand for locations in direct proximity to the Rhine, for example in Oberkassel, Pempelfort and Golzheim. In recent years a large volume of new housing has been constructed in Heerdt and Flingern in particular. Peripheral locations are also popular at present since prices for building land are lower and purchase prices for property can also be lower.

Residential real estate market locations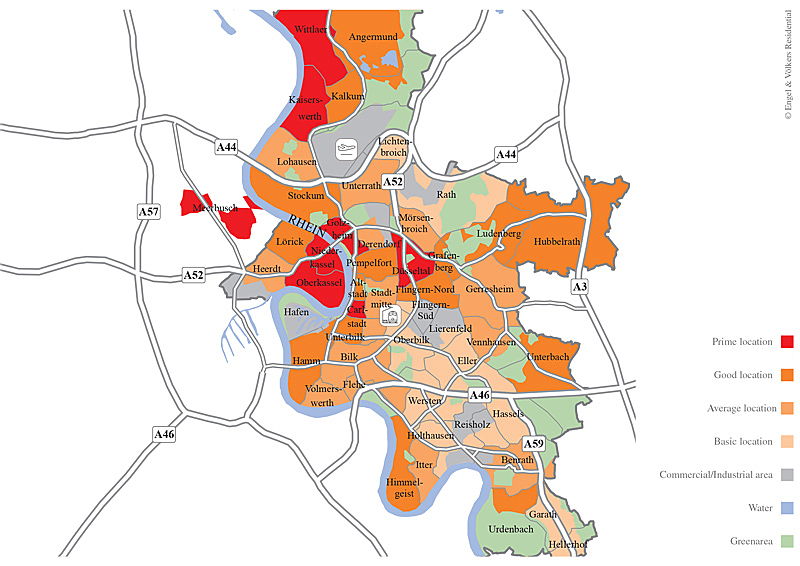 What demand trends are there in Düsseldorf?
Demand for family-friendly apartments with larger gardens is particularly strong. They should ideally be part of a well-structured planning programme in a quiet urban district. Large single-level apartments also continue to be popular. In addition to this, an increasing number of clients are placing value on sustainable properties. Project developers are, in turn, reacting to this demand by building solar complexes and passive homes.
Typical new-build apartment in 2021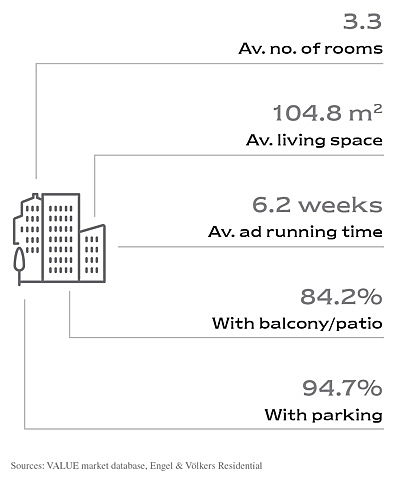 Get to know us
Prices quoted for new-build freehold apartments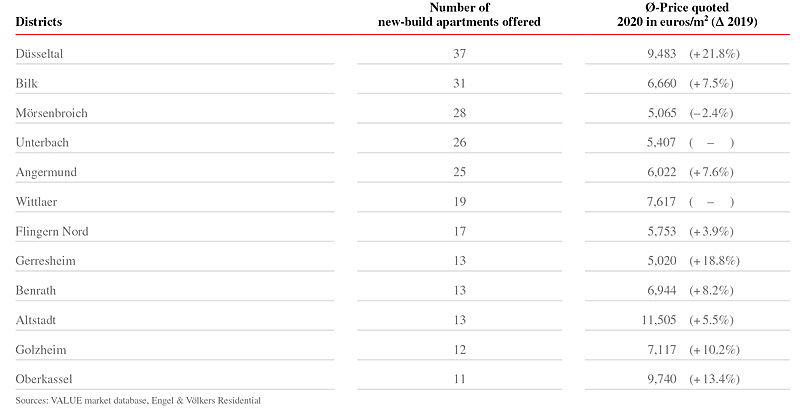 Planned residential projects by living space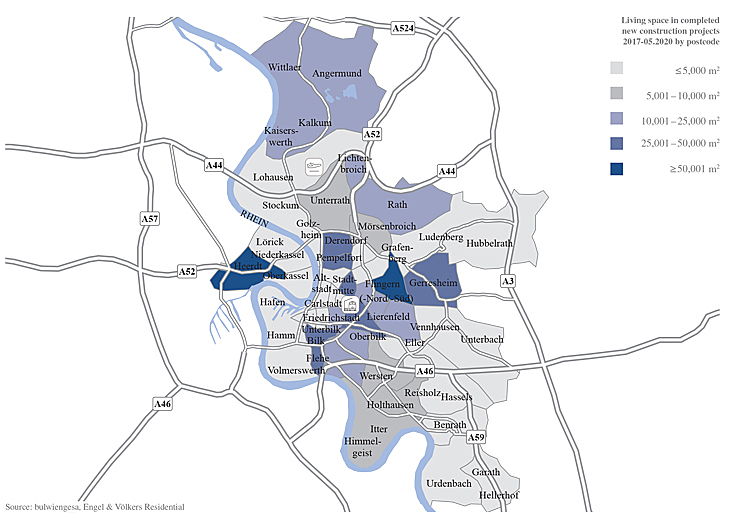 What your local expert says
Birgit Pfeiffer: "Demand remains high and will ensure that in the midterm the market accepts the rise in prices. Due to current construction delays and high material costs no improvement in the supply situation is in sight. Increasing conversion of office space into residential units could possibly relieve some of the pressure on the market. Working from home has proved to be a viable option and many office buildings are empty. Price levels remain at uniquely high level for North Rhine-Westphalia. For the first time, average prices quoted for new-build properties this year are higher than those in Hamburg."

Use our interactive graphics to compare Düsseldorf with other top locations in Germany.
Please contact our Düsseldorf team

Thank you for your request. We will contact you shortly.

Your Engel & Völkers Team