New Home Prices in Düsseldorf
What are the current developments on the market for new construction projects in Düsseldorf? Find out here about all the important key data in the capital of North Rhine-Westphalia. Our statistics and forecasts are primarily aimed at project developers and builders. But end customers can also get a good overview of the market prices for new flats in Düsseldorf here. Get in touch with Birgit Pfeiffer, our local expert for marketing new-build projects in Düsseldorf.


1. How is Düsseldorf's market for residential projects currently developing?
At the moment the market is experiencing a slump in demand. This is due to increased prices in combination with difficult financing conditions, which are making buyers more hesitant. In addition to this, a decrease in the number of corresponding available residential units is expected. The significant slowdown in construction activity is also an illustration of this. In 2021 the number of permits issued for home building was less than half the figure for 2016. As a result, in the mid term the number of completions, which has remained stable to date, will fall.
Furthermore, in recent years project developers have increasingly focused on the high-price luxury real estate segment, resulting in a certain degree of market saturation in Düsseldorf which as caused demand to stagnate. The lack of corresponding building plots in suitable locations is another factor in this. Developers must now switch their attention to the mid-price segment which, taking increased construction costs into consideration, is problematic. In consequence, new developments in Düsseldorf are being delayed, in turn resulting in a significantly smaller offering.

2. What impact are current economic trends having on the market in your location?
Current economic and political developments are resulting in uncertainty among market players and consequently demand on the real estate market is stagnating at present. The economic impacts of the war in Ukraine include rising interest rates and higher prices for energy and materials. As a result, construction costs for residential properties have also risen significantly. In addition to this, supply bottlenecks caused by the shortage of raw materials are resulting in delays which make scheduled completion of new developments in Düsseldorf difficult.

Prices quoted for new-build flats Düsseldorf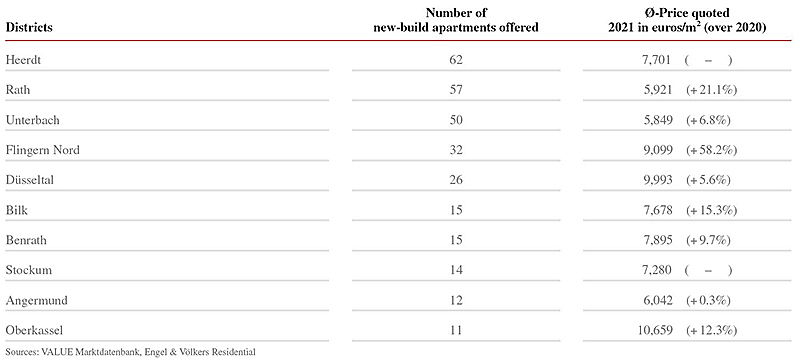 3. Are there any special forms of development in specific locations?
Demand continues to focus on prime locations directly on the Rhine, such as the districts of Oberkassel and Niederkassel on the left bank of the river and Golzheim and Carlstadt on the right bank. The peripheral areas of Wittlaer and Kaiserswerth in the north of the city are also extremely popular.


4. What kind of properties are buyers currently looking for?
Home working spaces and hybrid working models have become the norm during the pandemic and correspondingly this has resulted in an increased need for larger homes with additional workspaces in the last few years. Demand for such large apartments with areas ranging from 150 to 200 m² in popular locations is, however, currently not as strong. Instead, in sought-after areas most potential buyers are now once again looking for smaller new build flats in Düsseldorf with total areas of 70 m² at most.
Typical new-build flats in Düsseldorf in 2022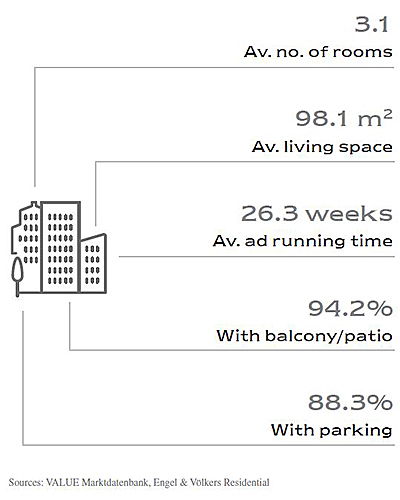 5. How will the market develop in future?
The current economic and political situation and corresponding hesitancy of potential buyers means that temporary stagnation of the residential property market in Düsseldorf appears likely. Due to the scarcity of properties available, it is, however, expected that there will be a moderate increase in price levels in the mid- to longterm. Over and above this, the uncertainties regarding the rise in interest rates should diminish.

Planned residential projects by living space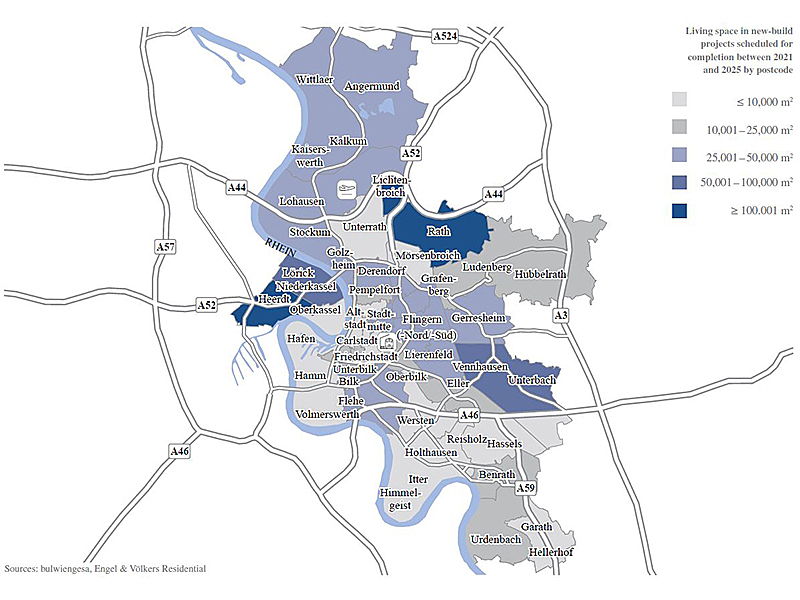 Use our interactive graphics to compare Düsseldorf with other top locations in Germany.

Please contact our Düsseldorf team

Thank you for your request. We will contact you shortly.

Your Engel & Völkers Team