Your real estate agent for sale & purchase in Belair in Luxembourg
Are you looking for a high quality villa, town house or modern apartment for sale in the top locations in Luxembourg? Then let our expert real estate agents advise you on the coveted real estate location Belair in the west of Luxembourg City.
Bienvenue à Belair: The noble district in the context of real estate sales with Engel & Völkers Luxembourg
The town of Belair represents the ideal living setting for a large number of buyer target groups who are looking for a house or apartment for sale in an urban as well as idyllic real estate location. The multicultural sales area with its selection of family-friendly properties such as terraced houses or semi-detached houses, but also stylish properties such as old town apartments or one-room apartments, appeals to a variety of property prospects, ranging from young singles and newcomers to couples and families. In addition, our experienced real estate agents in Belair will also present the noble side of the property location with prestigious villas of the premium category such as the "Maison Bel-Air" on Avenue Gaston Diederich.
Anyone who considers ​​selling a property in Belair as an owner benefits from the economic stability and the excellent infrastructure of the nearby city center. Thanks to various bus routes and a good road network, buyers enjoy short distances to the hot spots of Luxembourg. Due to its relatively leveled location, Belair is a popular area for bicycle excursions, which the city supports with the so-called "vel'OH!" A variety of kindergartens and schools, such as for example, the multilingual pre-primary and elementary school "Over the Rainbow" or the renowned educational institution for secondary school pupils - the Lycée Athénée - can be found in Belair, not far from stylish townhouses and condominiums from Engel & Völkers Luxembourg. In our portfolio you will discover our current selection of properties that are not only for sale, but also available for rent.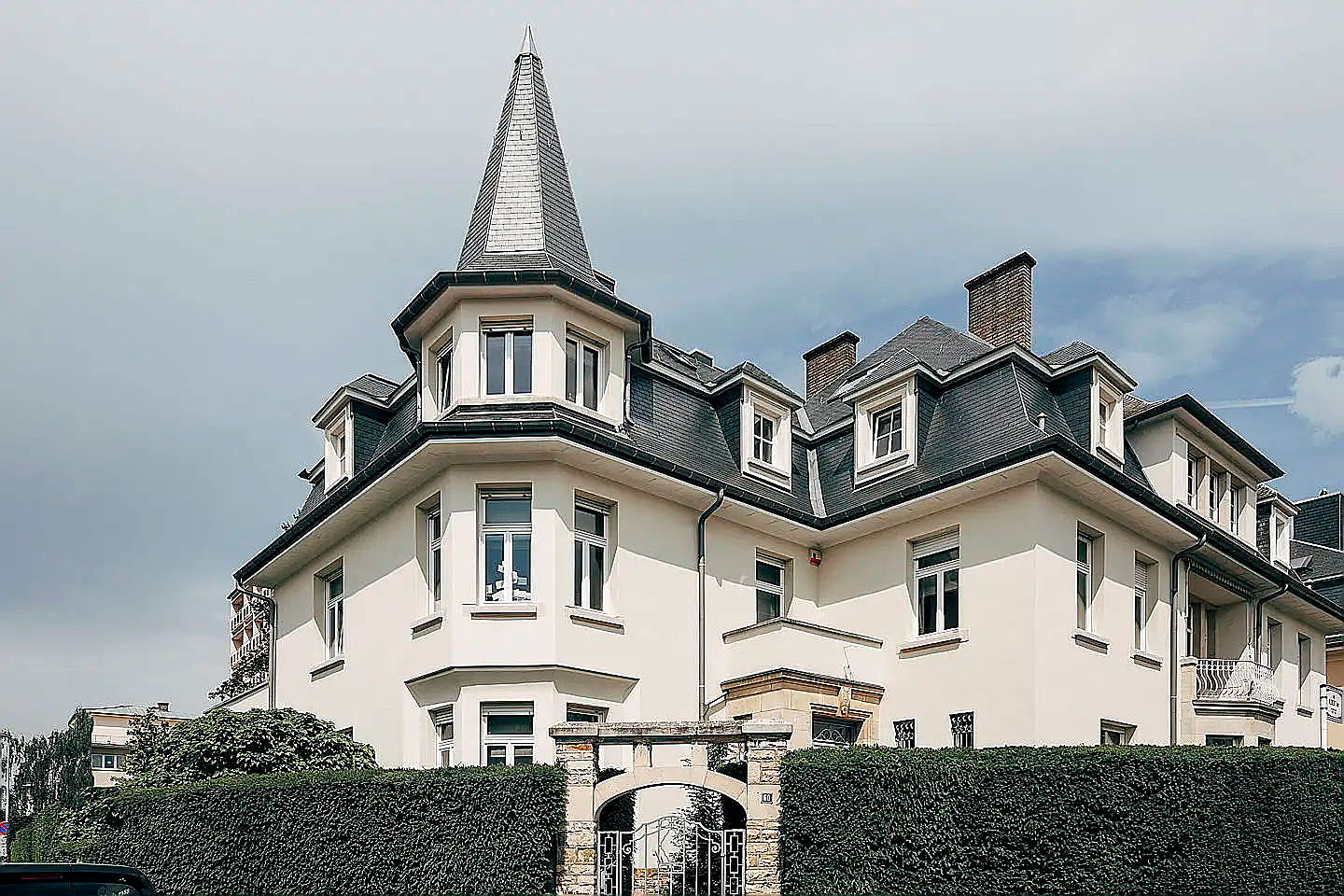 From tennis to theater: Belair's high recreational value favors the sale of real estate
Located in the heart of Luxembourg, since its incorporation in 1920, the Belair district has not only developed into a sought-after sales area with a good selection of townhouses, partly from the "Belle Epoque" period as well as modern apartments, but also presents itself as a meeting point of sporting and cultural life. As a natural sports area, the nearby city park of the neighboring district of Merl is ideal for jogging or cycling. Belair itself has a sports complex with tennis clubs such as "Josy Barthel" and the local swimming pool. As a special highlight, our reliable real estate agents in the sales area recommend the "Stade Josy Barthel" stadium, which is the center of numerous sporting events within Luxembourg.
Culture enthusiasts who are considering buying a house or apartment in Belair can be won over not only by the Schéiss cultural center or the Institut Saint-Jean meeting place, but above all by the Théâtre National cultural program of a real estate transaction. Finally, the large number of playgrounds also appeals to young target groups who are looking for an appealing home together with their parents in Belair.
Engel & Völkers Luxembourg - your real estate agent for the sale or purchase in Belair
Our reliable team takes care of your real estate needs in the most popular areas of the city and fulfills any sales or purchase requests. As real estate experts, we know the top locations in Luxembourg and support you with comprehensive market knowledge and a stylish sense of your choice of the ideal property location or the ideal property buyer. Belair is one of the most sought-after locations in the country and, in addition to dream properties such as townhouses, old town apartments or magnificent villas, has a comprehensive range of high-quality services and infrastructures.

Together with our experienced real estate agents, owners in the sale of your property benefit from the excellent image of the residential area, which is also reflected in the sales figures. Have your house or apartment professionally assessed by our real estate agents to find out the current market price for your property in Belair. In addition, we also provide you with useful specialist information, tailored to your real estate project and support you in the conception of a convincing sales strategy. However, we are your ideal contact not only for the sale or purchase of villas, houses and apartments, but also for the renting and lease of a premium property in Belair. Arrange your non-binding consultation in our Engel & Völkers real estate office in Luxembourg City and maybe your dream property in Belair will soon be found in our portfolio.
Sell ​​your property in Belair with us!
Real estate for sale and rent in Luxembourg
We also offer our services at the following locations:
Photo credit: 1111 Photography

Contact us now
Engel & Völkers
Licence Partner Luxembourg