As one of the world's best places to live, demand for residential property in Vienna is strong. Property prices in the city are therefore high and rising in all locations. Due to continuing inflow, Vienna's population is forecast to exceed the two million mark in the next few years and a corresponding volume of new housing will therefore be required.
1. How is Vienna's property market developing?

The large inflow of new residents means that demand for residential property in Vienna is consistently very high and prices are rising in all locations. Since 2016 prices for apartments have increased by some 22.5 %, meaning that Vienna continues to have the highest average prices of all the Austrian federal states. The city also holds the top position among the states in the detached and semi-detached house segment. In 2020 properties were sold for an average of just under EUR 700 000, a slight decrease over the previous year, however with price rises of over 40 % since 2016 the preceding years were characterised by strong growth.
2. How much does a freehold apartment cost in Vienna?
The strongest growth in apartment prices has most recently been recorded in the city centre and the 1st; 3rd and 9th districts, although prices in these areas were already very high. Buyers and tenants are increasingly looking for larger apartments and demanding higher property standards. In keeping with this, the majority now want premium fixtures and fittings, combined with modern smart home technology. In 2020 the average price for a freehold apartment was 5 190 EUR/m².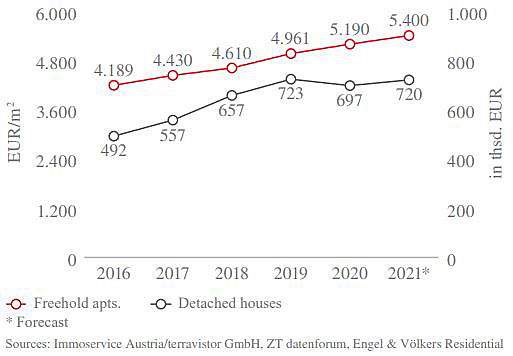 3. How expensive are current rents in Vienna?
Demand for rental apartments in Vienna is also strong and, as a result, average rents in central locations are high.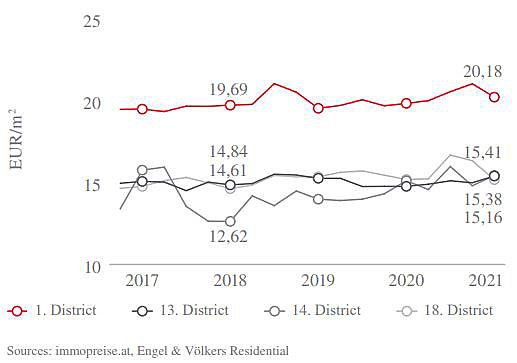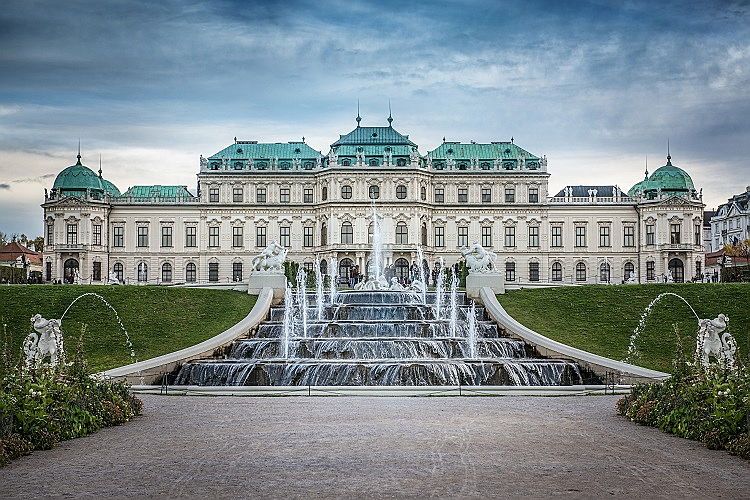 4. What impact does location have on prices in Vienna?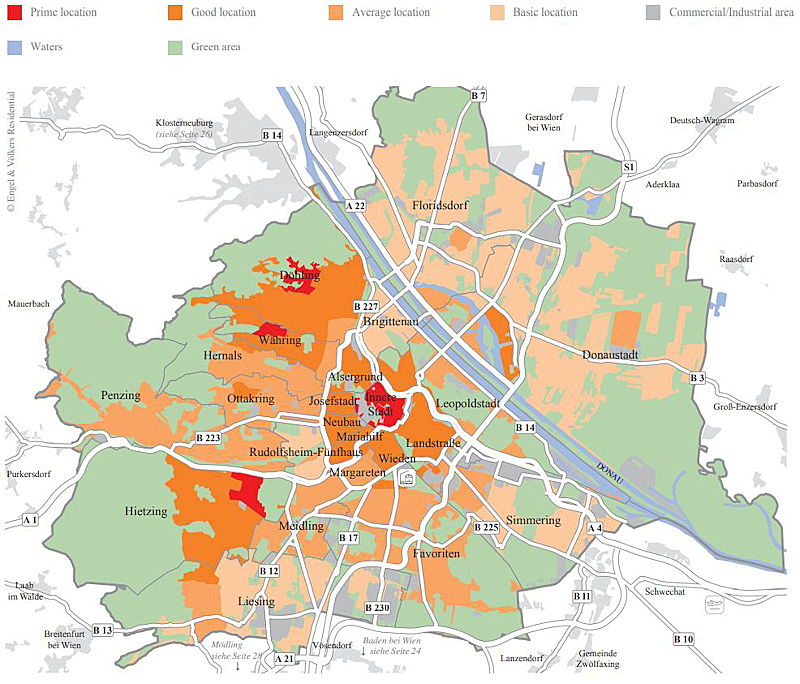 Sale prices (EUR) for detached and semi-detached houses by location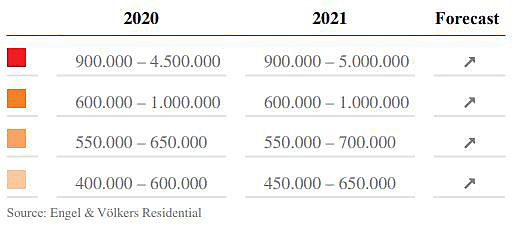 Freehold apartment prices in various residential areas of Vienna (EUR/m²)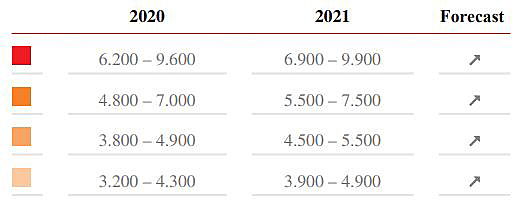 5. Which districts of Vienna fall into which location categories?
Prime location: Innere Stadt district and parts of Döbling, Hietzing and Währing
Good location: Alsergrund, Josefstadt, Mariahilf, Neubau, Wieden, Landstraße, Hietzing, Döbling, Währing and parts of Ottakring and Donaustadt
Average location: Penzing, Hernals, Rudolfsheim-Fünfhaus, Margareten, Favoriten, Leopoldstadt
Basic location: Floridsdorf, Donaustadt, Liesing, Simmering
6. Your contact – Here's what the local expert says
"Vienna is still a very attractive city and the residential property market is extremely robust. The much talked about urban exodus, which has been amplified by the pandemic, only applies to families with children. In all other cases the metropolitan area of Vienna continues to be a very popular place to live. As a result, pressure on housing remains high and prices are continuing to increase moderately. New and sustainable residential concepts are urgently required."
Thank you for your interest.

Contact us now
Vancouverstraße 2a

Deutschland

Fax:

+49(0) 40 36 13 12 22