Property prices in Salzburg state are high and continuing to rise. Detached houses on the periphery of Salzburg city and in the surrounding areas are in particular demand, as are properties on or near lakes and in the Salzkammergut region. Salzburg is popular with tourists and local residents alike. There is strong demand for residential properties, which has led to the continuing, stable appreciation of property values.
1. How is Salzburg's property market developing?

Property prices in the federal state of Salzburg are high, with prices for freehold apartments and detached/ semi-detached houses continuing to rise. Strong excess demand has resulted in a significant rise in prices, with houses costing an average of EUR 545 000 in 2020. The average property price in the popular state capital Salzburg is EUR 915 000, making it the second most expensive city after Innsbruck.
2. How much does a freehold apartment cost in Salzburg city?

Mozart's birthplace is a UNESCO world heritage site and also a well-known festival venue. The picturesque old town, located along the banks of the River Salzach and at the foot of Hohensalzburg Fortress, is a tourist hot spot. Salzburg is also a very popular place to live; as a result property prices are high and continuing to rise. The average price paid for a freehold apartment in 2020 was 5 230 EUR/m².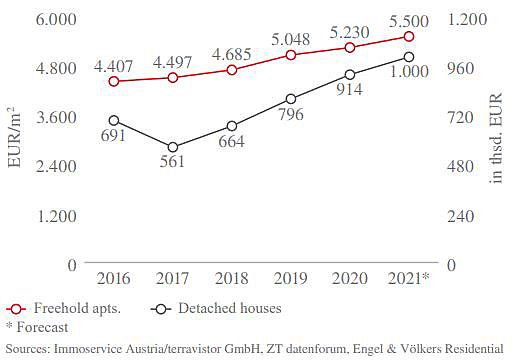 3. What impact does location have on prices in Salzburg city?
A variety of factors play a role in the classification of a district in terms of its location. These factors can include price levels in local shops; the appearance of the streets; the general condition of buildings or traffic connections. Central districts and the southern periphery in particular are considered to be prime locations, and thus achieve the highest property prices in the city.
4. How much do residential properties cost in the Salzkammergut region?
The Salzkammergut region covers an area spanning the east of Salzburg state, Upper Austria and Styria. Its countryside is characterised by numerous lakes and mountains, offering visitors both impressive scenery as well as many historic landmarks, including castles, fortresses and ruins as well as old mines and mountain railways. Tourists who enjoy physical activities can take advantage of thousands of hiking trails, cycle paths, golf courses and water sports amenities.
Average house prices by parish in EUR: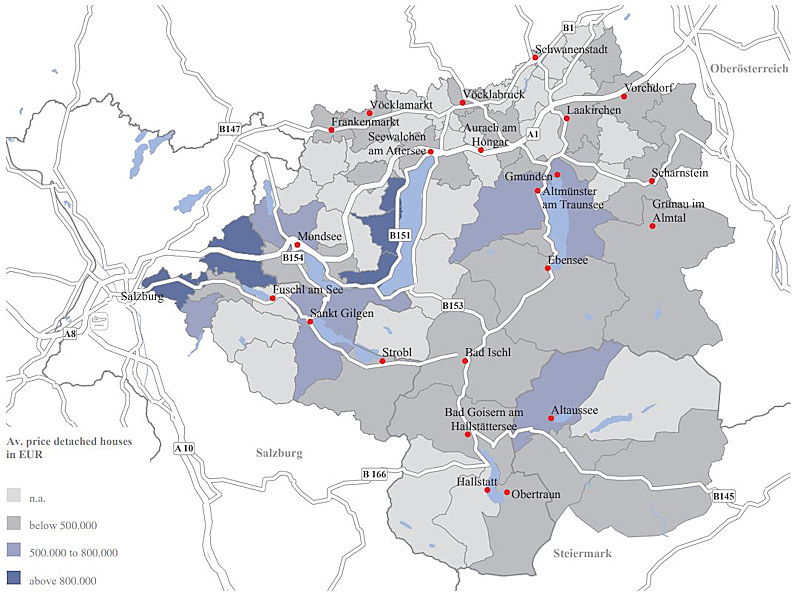 5. How much do residential properties cost in Zell am See?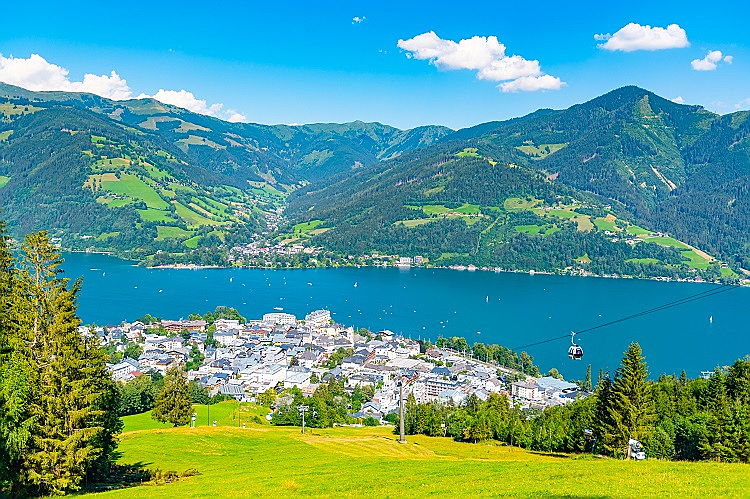 The region of Zell am See is located in the same-name district in the most south-westerly area of the federal state of Salzburg. Nestled between the Kitzsteinhorn glacier; the Schmittenhöhe mountain and Lake Zell lies an area with a diverse landscape. Demand is high for first and second homes as well as for properties which can be used as holiday lets. The region offers a huge range of leisure activities. Residential property is, in contrast, scarce, meaning that prices remain high, particularly for lakeside luxury homes or apartments with lake and mountain views. Villas achieve prices of up to EUR three million, and the highest price achieved in 2020, for an exceptional property, was EUR 5.2 million.

6. Your contacts – Here's what the local experts say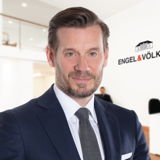 Mark Hüsges
Licensee Salzburg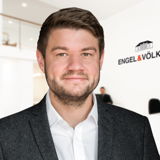 Florian Hofer
Licensee Zell am See
"Salzburg has an ideal location – in the heart of Austria but also close to Munich. And the region has a lot to offer - its beautiful capital city on the banks of the River Salzach, famous for its culture and historic old town, as well as the mountains and lakes throughout the state. In addition to this, the local property market is developing very positively. Demand for homes and investment properties is continuing to rise, with larger properties just as popular as building plots and properties in green locations and/or with gardens. An increasing number of international clients are also turning their attention to the region."
Thank you for your interest.



Contact us now
Vancouverstraße 2a

Deutschland

Fax:

+49(0) 40 36 13 12 22